Cumin Coriander Chickpeas.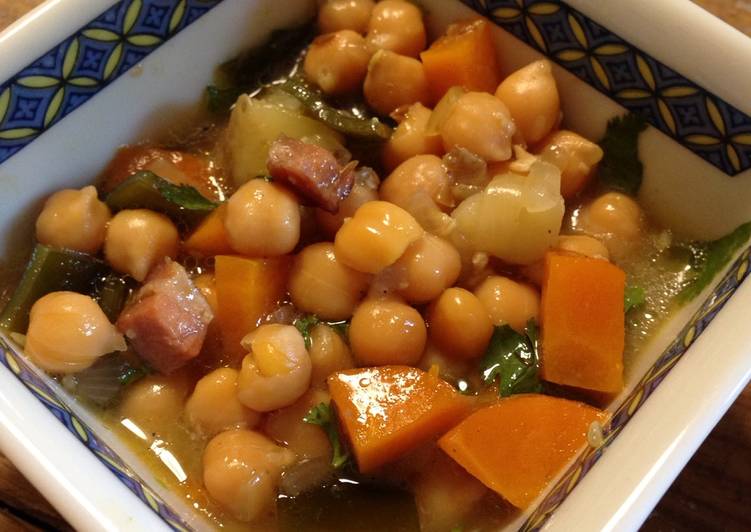 You can have Cumin Coriander Chickpeas using 10 ingredients and 5 steps. Here is how you achieve it.
Ingredients of Cumin Coriander Chickpeas
You need 150 g of dry chickpeas, soaked overnight or 8 hrs.
It's 50 g of bacon (2 slices or so).
Prepare 1 of onion, sliced thin.
It's 1/2 of carrot.
Prepare 1/2 tsp of cumin seeds.
It's 1/2 tsp of ground coriander.
Prepare to taste of salt.
It's 200-300 ml of broth of choice (I used Japanese kombu/kelp stock).
It's to taste of Lemon pressed olive oil to drizzle (optional).
Prepare to taste of Fresh cilantro.
Cumin Coriander Chickpeas step by step
Soak beans overnight in plenty of water. Drain before cooking..
In a heavy pot, saute bacon, cumin seeds, and onions until onions are soft. Add carrots, cut up kombu and ground coriander and saute a couple more minutes..
Add chickpeas, sauerkraut juice, shiokoji and enough broth to cover beans..
Bring to a boil, cover with lid and turn to lower heat. Cook for 45-60 minutes. Stir occasionally. If liquid gets too low, add a bit more broth, but keep in mind in the we you don't want it to be soupy, rather thick..
Once beans are desired softness and soup is thick, it's ready! Serve with fresh cilantro on top and a drizzle of lemon olive oil..