Cheesy Sausage & Broccoli Orzo.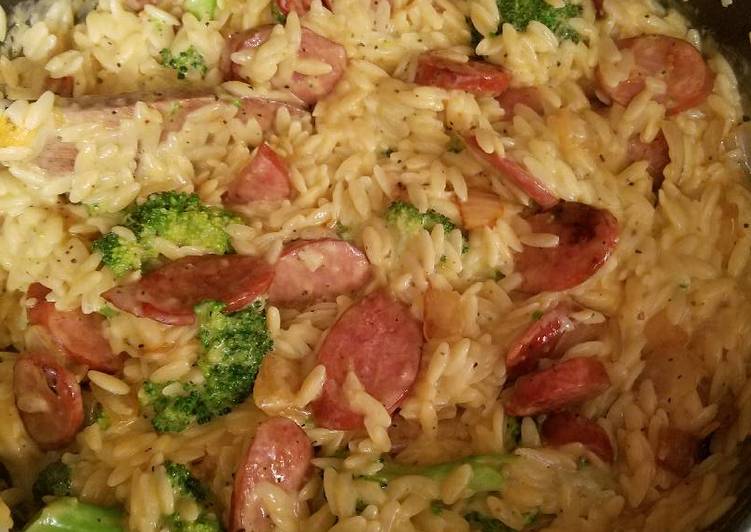 You can have Cheesy Sausage & Broccoli Orzo using 9 ingredients and 8 steps. Here is how you achieve it.
Ingredients of Cheesy Sausage & Broccoli Orzo
You need 1 1/2 cups of uncooked orzo.
You need 2 Tbsp. of olive oil.
It's 1 of small onion, chopped.
You need 1 cup of broccoli florets.
Prepare 1 (16 oz.) of pkg. smoked sausage.
It's 1/3 cup of milk.
Prepare 1 1/2 cups of shredded cheddar cheese.
You need 2 tsp. of garlic powder.
You need to taste of salt and pepper.
Cheesy Sausage & Broccoli Orzo instructions
In a large pot, begin to cook orzo as directed on package..
Coin the sausage link into bite size pieces and saute with onion and garlic powder in the olive oil in a large pot..
Continue cooking until thoroughly cooked and onions are softened..
When pasta is within 5 minutes of being cooked, add in broccoli and continue boil..
Drain pasta and return to pot..
Add in milk, cheddar cheese and salt and pepper. Combine until cheese is melted..
Fold in sausage mixture and combine thoroughly..
Enjoy!.