Pan Seared Turbot with Summer Squash and Orzo.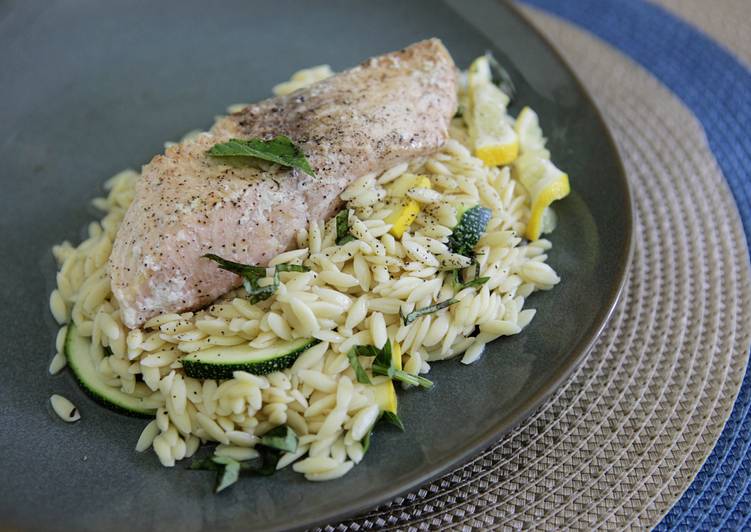 You can cook Pan Seared Turbot with Summer Squash and Orzo using 11 ingredients and 5 steps. Here is how you achieve it.
Ingredients of Pan Seared Turbot with Summer Squash and Orzo
It's 1/2 cup of orzo.
You need 1 of Kosher salt, to taste.
You need 2 of 6-ounce skin off turbot filets.
It's 1 of Freshly ground black pepper, to taste.
Prepare 1 tbsp of unsalted butter.
Prepare 2 tsp of olive oil.
Prepare 8 oz of summer squash, sliced 1/4 inch thick.
You need 2 small of shallots, sliced.
You need 1 tsp of lemon zest.
You need 1 of Juice of 1/2 lemon.
You need 8 of leaves fresh basil leaves, torn.
Pan Seared Turbot with Summer Squash and Orzo step by step
In a large saucepan set over high heat, bring 2 quarts of water to a boil. Add the orzo pasta and a generous pinch of salt and cook until al dente, about 7 minutes. Drain, rinse under cold water and transfer to a medium bowl..
In the meantime, rinse and pat dry the halibut and season on both sides with salt and pepper. Set aside..
Heat the butter in a large cast iron or non-stick skillet set over medium high heat just until melted. Add the squash and cook, stirring frequently, for 2 to 3 minutes. Add the shallots and continue to cook for 2 to 3 minutes or until squash is just tender. Remove to the bowl with the orzo, toss to combine and keep warm..
Add the olive oil to the pan and heat until shimmering. Add the fish and cook for 3 minutes or until golden brown. Turn the fish over and continue to cook just until cooked through and opaque, about 2 minutes..
Add the lemon zest, juice and basil leaves to the squash and orzo and toss to combine. Divide between 2 plates and top with the fish. Serve immediately and enjoy!.