AMIES PINEAPPLE CAKE with COCONUT and BANANA. A light, moist & summery cake with pineapple, coconut and banana in every bite. Add cream cheese frosting & it's like carrot cake A light and summery cake with a cream cheese topping. Just put the dry ingredients in one bowl and the wet in another, then stir.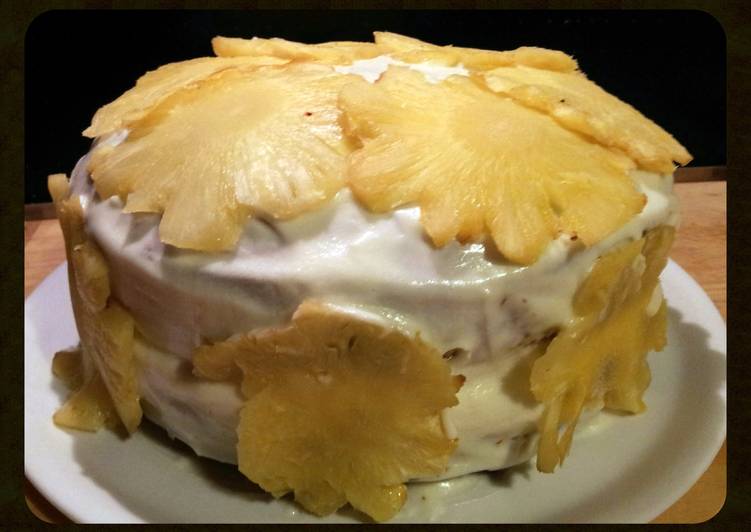 Tender moist cake with crushed pineapple, pecans and coconut with a cream cheese frosting. An old Southern tradition to make this cake when. Coconut, banana and pineapple topped off with an amazing Lime Frosting makes for a delicious snack! You can cook AMIES PINEAPPLE CAKE with COCONUT and BANANA using 19 ingredients and 7 steps. Here is how you achieve it.
Ingredients of AMIES PINEAPPLE CAKE with COCONUT and BANANA
Prepare 450 grams of baking flour.
It's 3 large of eggs.
It's 200 grams of desiccated coconut.
You need 3 of ripe banana, mashed.
You need 230 grams of pineapple, mashed.
Prepare 150 grams of walnuts, chopped finely.
It's 1 tsp of bicarbonate.
It's 1 tsp of ground cinnamon.
You need 240 ml of sunflower or vegetable oil.
Prepare 450 grams of sugar.
You need 1 tsp of vanilla extract.
It's 1/2 tsp of salt.
It's of frosting.
Prepare 225 grams of philadelphia cream.
Prepare 1 tsp of vanilla extract.
You need 450 grams of icing sugar, sifted.
Prepare 110 grams of melted butter.
It's of decoration.
It's 1 small of pineapple, sliced thinly round.
A simple banana snack cake filled with pineapple, coconut, and nuts, this is a perfect way to enjoy those ripe bananas sitting on the counter. Upside-down cakes are classically made in a cast-iron skillet because it gives the cake a crisp edge, cooks it evenly, and keeps it moist. Stir in pineapple and bananas and mix well with a wooden spoon. The most AMAZING Coconut Cake with layers of tender, moist coconut cake, fresh pineapple filling, and whipped coconut cream cheese frosting.
AMIES PINEAPPLE CAKE with COCONUT and BANANA instructions
Put the oil, sugar and vanilla in a large bowl. Mix with an electric hand whisk until smooth and fluffy. Add the eggs one at a time, whisking well until incorporated. Add the flour (little by little), cinnamon, salt and bicarbonate, whisk until smooth, then add the banana and pineapple. Mix until well blended. Add walnut and desiccated coconut. Give everything a good final mix..
Divide the mixture between 2 greased 20 cm baking pan or pan with parchment paper. Bake at 180ºC for 40 minutes in two level in the oven. After the first 20 minutes, change the position of the pan. Bake for another 20 minutes until risen, golden, and an inserted skewer comes out clean..
Allow the cake to cool in their pan before turning out into a wire track while you make the frosting and prepare the pineapple decoration..
To make philadelphia frosting: Beat philadelphia cream and vanilla extract with the creamed butter in a mixing bowl. Gradually sift in the icing sugar beating all the time to make smooth and spreadable frosting.
For pineapple decoration: Cook pineapple in the oven at 150ºC for 30 minutes, at each side..
Spread the frosting mixture across the bottom of the other cake then reassemble the 2 cakes. Pour over the remaining mixture, making sure to cover the entire cake. Arrange on top and side of the cake pineapple as decoration..
Serve, share and enjoy!.
Use an electric mixer to beat together the sugar and eggs until light and fluffy. Add the bananas, oils, vanilla and harissa. Beat to combine, then sift in the flour, bicarbonate of soda and spices, folding it all together with a metal spoon. It is a three layer yellow, moist cake with thick pineapple filling and seven-minute icing with sweet shredded coconut spread all over the cake. Take sweetened shredded coconut and immediately put around the sides and on top of cake before the icing dries.