Rice-ah-Roni.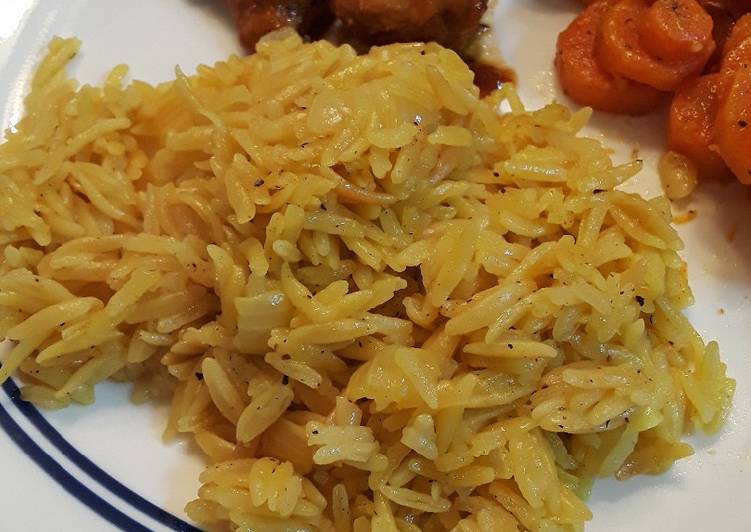 You can cook Rice-ah-Roni using 11 ingredients and 4 steps. Here is how you cook it.
Ingredients of Rice-ah-Roni
You need 3 tbsp. of unsalted butter.
It's 1/2 of yellow onion, diced.
It's 1 cup of orzo pasta (or broken up spaghetti would be fine).
You need 2 cloves of garlic, minced.
Prepare 1 cup of long grain white rice (I use Jasmine rice).
You need 3 cups of unsalted chicken broth.
It's 1 tsp. of salt.
It's 1/2 tsp. of salt free all purpose seasoning.
It's 1/4 tsp. of black pepper, garlic powder, paprika, dry mustard.
It's 1/8 tsp. of cayenne, turmeric, coriander.
Prepare 2 tsp. of dried parsley.
Rice-ah-Roni step by step
Heat the butter over med-high heat in a large, deep skillet with a tight fitting lid. Once it's melted, add the onion and the orzo. Cook, stirring often, until the onion is translucent and the orzo has begun to turn golden..
Stir in the seasonings (except for the parsley), the garlic and the rice. Cook and stir for another minute or two. Then add in the broth and let it come to a boil..
Place the lid on and turn the heat to low. Let this cook, covered, without lifting the lid for 17 minutes. Then turn off the heat, but leave the skillet undisturbed with the lid still on for an additional 5 minutes..
After the 5 minutes are up, remove the lid, add the parsley and fluff with a fork. Serve immediately and enjoy!.