Pea and Pancetta Pasta Risotto.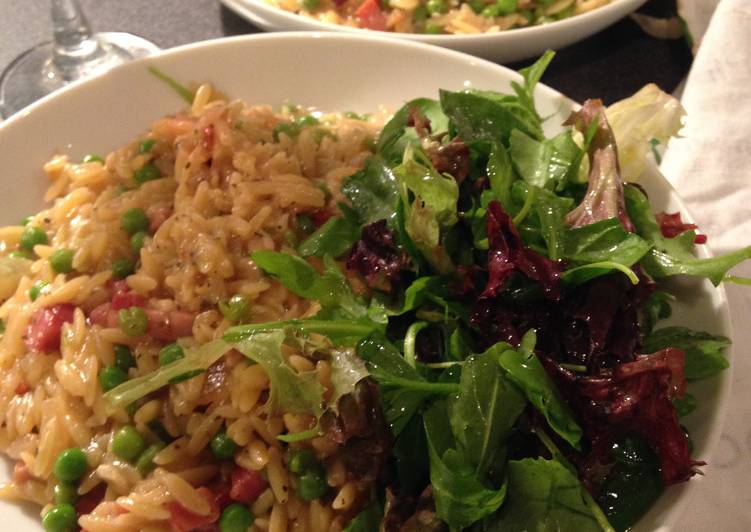 You can have Pea and Pancetta Pasta Risotto using 10 ingredients and 6 steps. Here is how you achieve that.
Ingredients of Pea and Pancetta Pasta Risotto
Prepare of Olive oil.
Prepare 1 of onion, peeled and chopped.
You need 1 packet of pancetta lardons (about 75g).
Prepare of Dried sage (or rosemary, thyme or a mixture of all of them).
Prepare 1 clove of garlic (if you want).
You need 1 splash of dry white wine or dry vermouth (optional).
You need 1 cup of orzo pasta, about 200g.
You need 1 cup of frozen peas.
You need of Couple of handfuls of grated Parmesan.
You need 1 knob of butter and a squirt of lemon juice, to serve.
Pea and Pancetta Pasta Risotto step by step
I usually use a cast iron frying pan for this but it works fine in a heavy-based pan too. Heat a splash of olive oil and saute the chopped onion and pancetta until soft and slightly browning..
Add the dried herbs, garlic, white and black pepper and stir to release the aromas..
Add a splash of dry vermouth, or dry white wine (although you don't have to, I don't think Nigella does), and stir so any sticky bits at the bottom of the pan are released..
Add the orzo pasta and stir to coat in the oil, then add 2 and a half cups (the same cup you measured the pasta in) of cold water, and a splash of chicken stock. You can also use vegetable stock, or just water..
Let the risotto bubble gently, stir from time to time to prevent it sticking on the bottom. When the stock/water is nearly all absorbed, add the peas, and a little more water if needed, until the pasta is tender, about 8 to 10 minutes in total..
Grate some Parmesan cheese – up to you how much, I used a couple of handfuls, stir through the pasta together with a squeeze of lemon juice and a knob of butter if you wish (I forgot). Check the seasoning and serve with a green salad. So speedy!.