Strawberry Steak Salad w/ Roasted Peach Vinaigrette.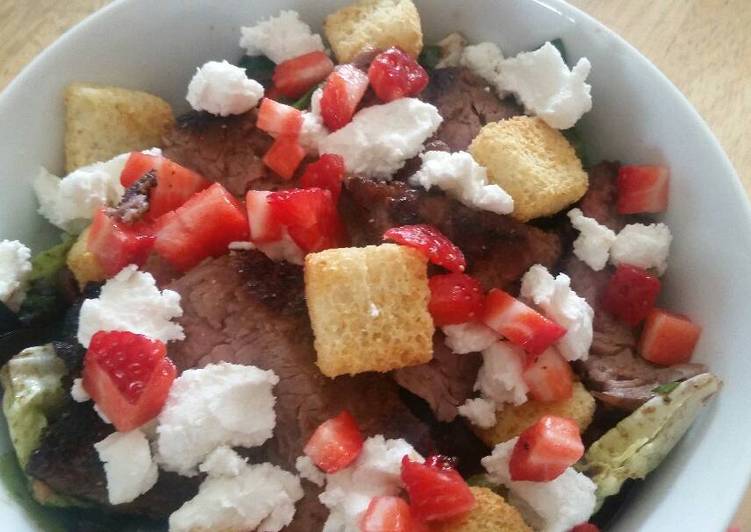 You can have Strawberry Steak Salad w/ Roasted Peach Vinaigrette using 16 ingredients and 7 steps. Here is how you cook that.
Ingredients of Strawberry Steak Salad w/ Roasted Peach Vinaigrette
It's 1 lb of skirt steak.
Prepare 10 of strawberries.
You need 1/2 C of port wine.
You need 2 cloves of garlic; minced.
Prepare 1 of large red onion; minced.
Prepare 1 of kiwi.
It's 2 of roasted peaches.
It's 5 of basil leaves.
It's 1/3 C of balsamic vinegar.
You need 1 C of extra virgin olive oil.
Prepare 1/2 t of fresh thyme.
It's 2 handfuls of mixed greens.
Prepare 1 of avocado; diced.
You need 2 oz of goat cheese.
You need 1 pinch of salt and black pepper.
You need of croutons; as needed.
Strawberry Steak Salad w/ Roasted Peach Vinaigrette step by step
Puree half of the strawberries, 1 clove garlic, half the onion, port, and the kiwi until smooth. Submerge steak in puree to marinate for 2 days. Wash off marinade and pat dry..
In a food processor, combine peaches, balsamic, and basil. Add a pinch of salt, black pepper, and sugar. Puree until smooth. Drizzle in oil slowly while processor running..
Heat enough oil to cover the bottom of a large saute pan. Add steak. Season with salt, pepper, and thyme. Sear each side until desired doneness. Remove steak from pan. Let sit on cutting board to rest..
Add onions to pan. Cook 1 minute or until translucent. Add garlic. Cook 30 seconds or until garlic is fragrant. Remove from pan and add to a mixing bowl with salad greens..
Slice skirt steak thinly against the grain. Toss avocado, greens, garlic, onions with enough vinaigrette to coat, but not overdress. Keep extra dressing in fridge..
Lay greens on a plate or in a bowl. Dice remaining strawberries and lay atop. Lay steak atop, and sprinkle croutons, goat cheese, and cracked black pepper..
Variations; Jicama, honey, agave, oregano, pineapple, bacon, pancetta, prosciutto, chives, scallions, apricot, apple, banana, ginger, mint, sherry, arugula, blackberries, raspberries, bell pepper, ricotta, blueberries, mozzarella, sheeps milk cheese, figs, pecans, spinach, mascarpone, coconut, creme fraiche, grapefruit, lemon, lime, almonds, pine nuts, pistachios, red wine vinegar, rose, champagne vinegar, yogurt, radicchio, rosemary, radish, shallots, tomatoes, marsala, walnut, roasted bell peppers, jalapeños, habanero, celery, carrots,.