Lemon/Garlic/Thyme Pasta.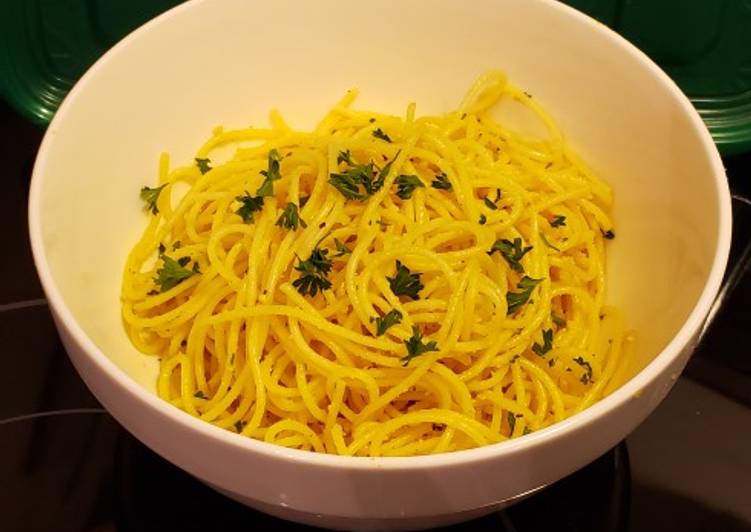 You can have Lemon/Garlic/Thyme Pasta using 14 ingredients and 5 steps. Here is how you achieve it.
Ingredients of Lemon/Garlic/Thyme Pasta
It's 250 g of vermencelli pasta.
You need 1 of fresh lemon squeezed.
Prepare 2 cloves of chopped garlic.
You need 1 tbs of olive oil.
Prepare 3 tbs of butter.
You need 2 tbs of parmasean cheese.
It's 2 tbs of hummus.
It's 1/2 tbs of yellow mustard.
You need 2 tsp of Thyme.
You need 1 tsp of salt.
It's 1 tsp of fresh ground black pepper.
It's Pinch of Tumeric (For colour).
You need 1 tsp of sugar (if lemons not ripe enough).
It's of Parsley chopped for garnish and extra parmesan cheese.
Lemon/Garlic/Thyme Pasta step by step
Boil large pot of water.
Heat large skillet to low.
Add Garlic, olive oil (cook for two minutes) add butter hummus,lemon juice,parmesan cheese,mustard,Thyme,salt,pepper,and tumeric.Heat on low for 5 min. Stir constantly..
Drain pasta add pasta to pan and mix well..
Garnish with chopped parsley and parmesan cheese..