sig's fusilli with zucchini and mixed peppers. A fresh vegetable sauce, here full of eggplant, bell pepper, zucchini and tomatoes, is a nice alternative to everyday marinara sauce. We like the way the sauce slips into fusilli's corkscrew-like UGC Reviews Modal. Reviews for: Photos of Fusilli with Mixed Vegetable Sauce.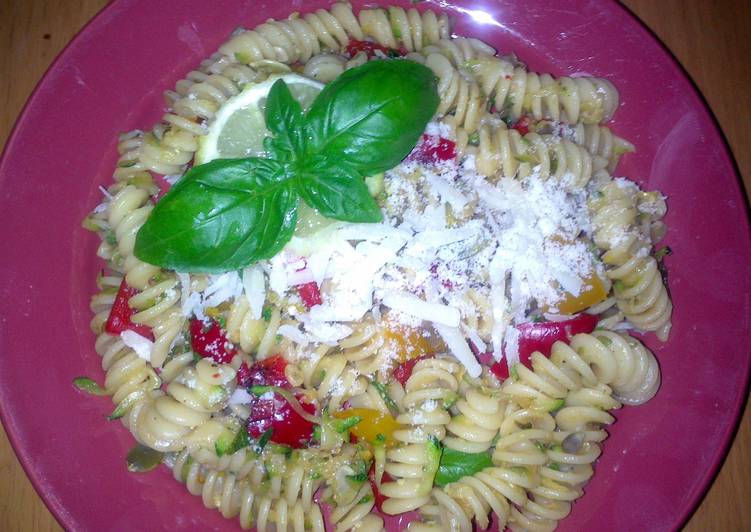 A little tip for you—you can also use the zucchini sauce as a topping for bruschetta. If I had to choose one thing I have in common with my father, it would have to be our love of this dish. We both adore zucchini and are both big fans of. You can cook sig's fusilli with zucchini and mixed peppers using 8 ingredients and 8 steps. Here is how you achieve it.
Ingredients of sig's fusilli with zucchini and mixed peppers
You need 2 of mixed peppers chopped finely.
You need 2 medium of zucchini, grated and squeezed dry.
It's 4 tbsp of olive oil.
Prepare 1 pinch of dried chilli flakes.
You need 500 grams of fusilli.
Prepare 4 tbsp of mixed seeds or walnuts , optional.
Prepare 1 of zest of a whole lemon.
You need 5 tbsp of grated Parmesan.
Pour the drained fusilli into the zucchini pan, add the cream, pepper to taste, sprinkle with grated Parmesan, then mix well. I would make this recipe again. Cutting the zucchini into strips and cooking them until they're tender but still holding their shape allows them to twist and turn around the fusilli, clinging to Bring a large pot of water to boil. Meanwhile, trim and discard ends of zucchini.
sig's fusilli with zucchini and mixed peppers step by step
chop the pepper into small chunks ,add into pot soften for about three minutes.
Grate zucchini ,squeese dry.
add to peppers cook gently for three more minutes.
add chilli flakes and salt and nuts or seeds if using.
cook pasta, Drain tip in the sauce ,mix with sauce.
sprinkle with lemon zest heat for about 30 or so seconds..
sprinkle fresh Parmesan over top.
leave to stand for a few minutes so that flavours can fuse.
When oil is hot, add the sliced garlic and peppers. Remove pan from heat and stir to prevent burning. Add to pasta, mix and cover to keep cool. This video is about making Fusilli Pasta with Butternut squash, Broccoli, Red bell peppers, Zucchini, Basil. I used organic brown rice fusilli pasta.