Tuna Coconut Curry Pasta.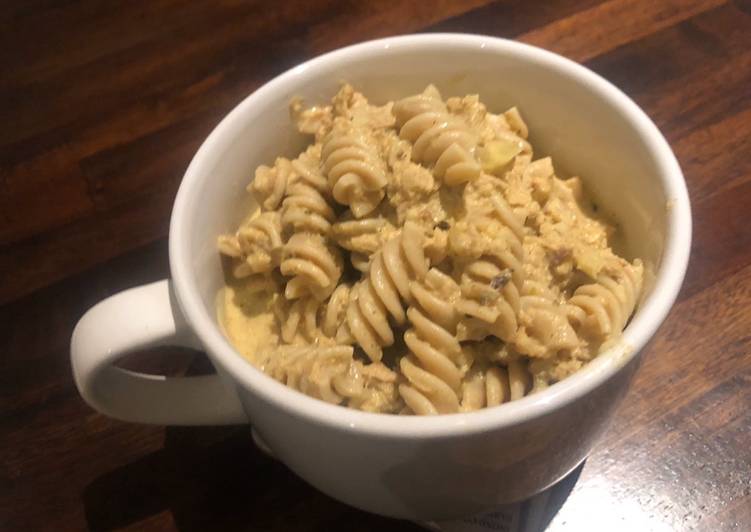 You can have Tuna Coconut Curry Pasta using 12 ingredients and 9 steps. Here is how you cook that.
Ingredients of Tuna Coconut Curry Pasta
Prepare 250 g of wholewheat fusilli pasta.
Prepare 1 of small onion.
It's 1 of glove garlic.
It's 2 tablespoons of spring onion.
You need 1 tablespoon of olive oil.
It's 1 teaspoon of salt.
Prepare 1 teaspoon of curry powder.
It's 1 teaspoon of garam masala.
You need 1 teaspoon of paprika.
You need 1 teaspoon of parsley.
It's 1 can of coconut milk.
Prepare 2 cans of tuna shredded (drained).
Tuna Coconut Curry Pasta instructions
Boil water in a pot and cook pasta for 15-20 minutes..
Finely chopped the onions, garlic and spring onion or chop in a food processor..
Heat oil in a pot and fry the onion mix with 1 teaspoon of salt till soft, not brown..
Mix the curry powder, garam masala, paprika and parsley in a cup..
Add to onion and fry for 30 seconds. Be careful not to burn the curry powder mix..
Add coconut milk, turn heat to medium heat and cook for 10 minutes..
Add tuna and cook for 5 minute on low heat..
Drain pasta once cooked and mix in tuna sauce..
Serve hot..