Red pepper and pine nut cupcake. Supercook clearly lists the ingredients each recipe uses, so you can find the perfect recipe quickly! It uses lemon, red pepper flake, kale, pine nut, olive oil. Reserve slice; remove core and seeds from inside pepper.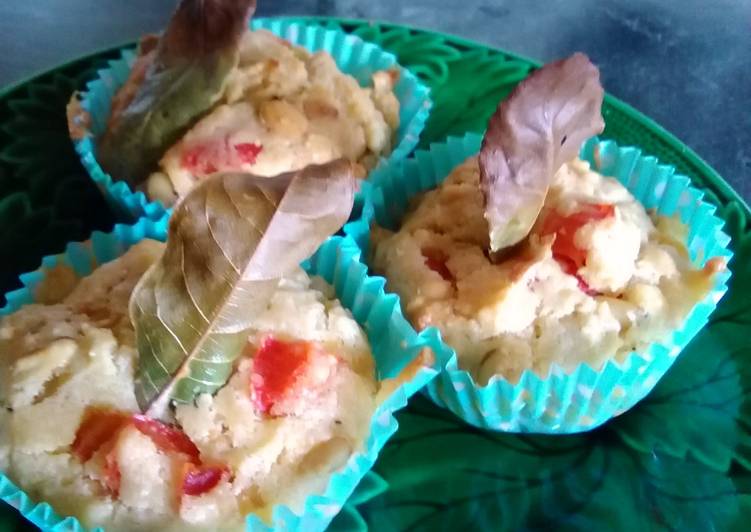 Top with the red pepper, onion, feta and pine nuts, then the parsley. Season well with salt and freshly ground black pepper and squeeze over lemon juice. Arrange the red pepper, goats cheese, onion and pine nuts on the base. You can cook Red pepper and pine nut cupcake using 11 ingredients and 3 steps. Here is how you cook that.
Ingredients of Red pepper and pine nut cupcake
It's 150 grams of lightly salted butter, softened.
You need 2 of Red Peppers, cored,deseeded and diced.
Prepare 2 of Shallots thinly sliced.
Prepare 2 of garlic cloves,Crushed.
It's 75 grams of Pine Nuts.
Prepare 125 grams of Plain flour.
You need 2 tsp of baking powder.
Prepare 125 grams of Ground Almonds.
It's 4 of Eggs,Beaten.
You need 12 of small bay leaves.
It's 1 of pepper.
Beat the eggs, milk and pepper together and pour over the filling in the flan dish. Note Delicious served with a simple green salad. Nutty, rich, and garlicky, this makes a great dip for any vegetable antipasto. Whirl red peppers and pine nuts in a food processor until smooth.
Red pepper and pine nut cupcake instructions
Line a 12 section bun tray with paper cake cases,Melt the 25g of the butter in a frying pan and gently fry the red peppers,Shallots and garlic for 5 minutes until soft. Drain to a plate,Tip the pine nuts into the pan and cook for 2-3 minutes until beginning to brown.Leave to cool.
Put the remaining butter in a bowl with the flour ,baking powder,ground almonds,eggs and plenty of pepper. Stir well to mix, then stir in the red pepper mixture and pine nuts .Divide the cake mixture between the paper cases and push a bay leaf in the top of each cake if liked..
Bake in a preheated oven ,180c,Gas Mark 4 for 20 minutes or until risen and just firm. Transfer to a wire rack. Serve warm or cold.
Scrape into a medium bowl and set aside. Mash garlic with salt to a paste and add to processor with. · Avocado blueberry quinoa salad with corn, red onion, feta, pistachios, and a cilantro lime dressing. Combine oil, vinegar, salt, red pepper, and oregano in a large bowl, stirring with a whisk. Coarse salt and freshly ground pepper to taste. Cut the peppers into quarters and place them face down on a broiling pan lined with aluminum foil.