Pesto Pasta.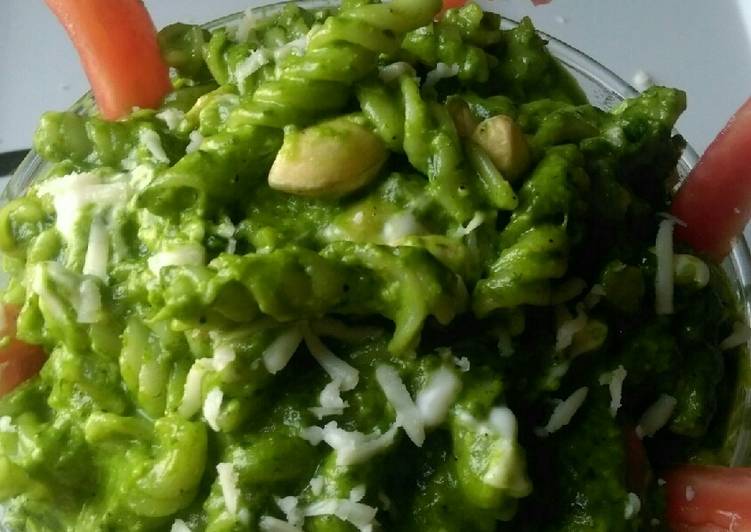 You can have Pesto Pasta using 14 ingredients and 6 steps. Here is how you achieve it.
Ingredients of Pesto Pasta
Prepare 2 cups of Fusilli Pasta.
Prepare 2 cup of Basil leaves.
Prepare 1 cup of spinach leaves.
Prepare 50 gm of freshly grated parmesan Cheese.
You need 1/2 cup of Cashewnuts.
You need 1 tbsp of Olive oil.
Prepare 1/2 tsp of Black pepper.
Prepare 3 of Garlic cloves.
It's 1/2 of Onion finely chopped.
Prepare 1 of Green chilli chopped.
Prepare 1 tsp of lemon juice.
It's 1 tsp of honey(optional).
It's 1/2 tsp of Salt.
You need 1 tbsp of Cream.
Pesto Pasta step by step
Boil pasta in water with 1 tsp salt and 2 tsp oil till al dente.Drain it and cool..
Take spinach leaves, basil leaves, garlic cloves, ginger piece,onion,green chilli, olive oil,little salt and half of the cheese..
Blend it very well till smooth consistency.Pesto sauce is ready..
Heat 1 tbsp oil in a wok.Put boiled pasta.Add pesto sauce and cook it for 2 min on slow flame.Toss the pasta well..
Stir in rest of the cheese.Squeeze over the lemon juice. Dash cream and honey..
Serve..