Sweet fruits ravioli in Rich creamy sauce. Would you like any fruit in the recipe? Meanwhile, heat ricotta, cream and lemon juice and stir together. Remove the ravioli from the boiling water with a slotted spoon, drain and serve with the sauce on warmed plates.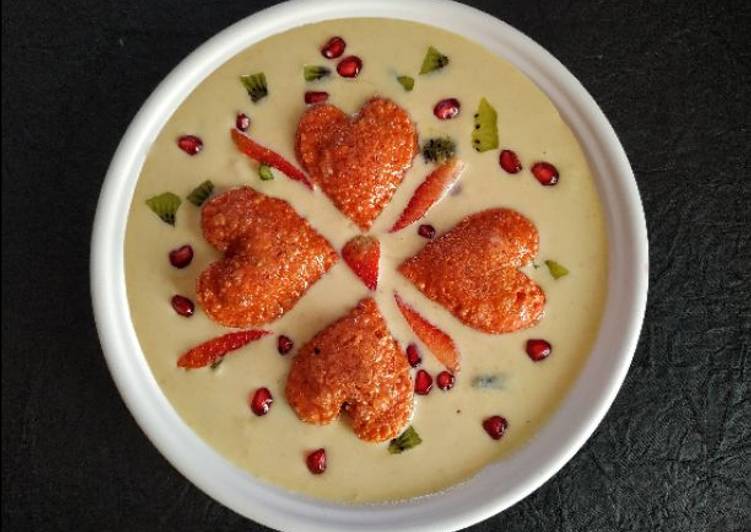 Sigh… I hope one day I'm so rich that I'll be able to add shaved truffle to everything. To pasta, risottos, potatoes, you name it… Gosh, I would even swim. Nothing quite beats the taste of freshly made ravioli and home made ones are even better. You can cook Sweet fruits ravioli in Rich creamy sauce using 20 ingredients and 13 steps. Here is how you cook it.
Ingredients of Sweet fruits ravioli in Rich creamy sauce
Prepare For of ravioli:.
It's 250 gms of maida.
Prepare 60 gms of ghee.
You need 3-4 drops of red food colour.
Prepare to taste of Salt.
You need For of rich creamy sauce:.
Prepare 1 liter of full fat milk.
It's 4 pieces of kalakand.
It's 4 tbsp of sugar.
You need 1 tbsp of custard powder.
Prepare 1 tsp of rose water.
Prepare For of filling:s.
Prepare 150 gms of chopped mixed fruits(apple, chiku, pears, straberry, date.
You need 2 tbsp of grated coconut.
It's 2 tbsp of brown sugar.
It's 2 tsp of butter.
It's 2 tbsp of almond chopped.
It's 1/4 tsp of cinnamon powder.
It's For of garnishing:.
You need 60 gms of chopped mixed fruits.
Learn how to make restaurant style Chicken Ravioli recipe at home. This ravioli with parmesan cream sauce is one of those once-in-awhile treats best served on a cold and snowy January day when you're craving something cozy and comforting. Since it has a creamy sauce the leftovers won't keep well so I made it a small-batch recipe that serves just two. Place the raviolis in a single layer on a baking tray lined with parchment paper to prevent from sticking.
Sweet fruits ravioli in Rich creamy sauce step by step
To prepared the rich milk sauce : Take havey bottom pan and add 1 liter milk in it and bring it to boil..
Now add 4 tbsp sugar crumble kalakand, mix it well. Reduced the milk to it's 3/4th of it's quantity.
Mix 1 tbsp custard powder in 2 teaspoon of water, add this mixture to reduced milk, cook it consistency become thick.
Now add rose water mix well, keep this mixture for cool at room temperature, then put into fridge for 1 hr to chill.
For make ravioli dough: Take big bowl or plate add 250 gms maida and 60 gms ghee, salt, 2 – 3 drop of food colour. Make medium soft dough by adding little by little lukewarm water, cover the dough with cling wrap and Keep aside for 15 mins..
For mix fruits stuffing : Heat a pan on medium flame, add 2 tbsp butter in it, add 150 grams mixed chopped fruits in it, saute them for 1 min, then add brown sugar, and cinnamon powder, grated coconut, chopped almond, mix all togather. Cook properly for next 2-3 mins..
Once mixed fruits mixture done, keep aside for cooling..
For making heart shaped ravioli, take a small portion of dough, make a round ball, dust some flour on work top, then roll it out on thin sheet, cut out hearts using heart shape cutter..
Place prepared mixed fruits mixture filling in some of hearts, apply maida water mixture on side, using your fingers tips, cover with remaining hearts press and seal it with fork as shown in pic.
Prepared all heart shape ravioli in same way.
Now take pan add sufficient amount of ghee to fry ravioli, fry them on low – medium flame till they become crispy.
Then dip this fried ravioli in sugar syrup, drain the excess sugar syrup, put them on plate..
For assembling : Take a serving plate, add chilled milk sauce, add chopped mixed fruits on it. Place sugar coated ravioli on it. serve chilled..
At this point, if you want to freeze the ravioli for later, place the entire. Toss the ravioli with the remaining oil to coat. Meanwhile, bring the marinara sauce to a simmer in a medium saucepan over medium heat, whisking Whisk in the ricotta and enough reserved cooking water to thin the sauce to desired consistency. For a thicker sauce, use less pasta water; for a thinner. I've got a creamy and light crab sauce with a touch of Parmesan and thyme that will blow your mind!