Garlic-Tomato Pasta With Peas. Cook the pasta in a large pot of boiling salted water until al dente. In a large skillet or saute pan, saute the garlic in enough olive oil to cover the Drain the pasta, but do not rinse in cold water. Toss with a couple of tablespoons of olive oil, and then mix into the sauce.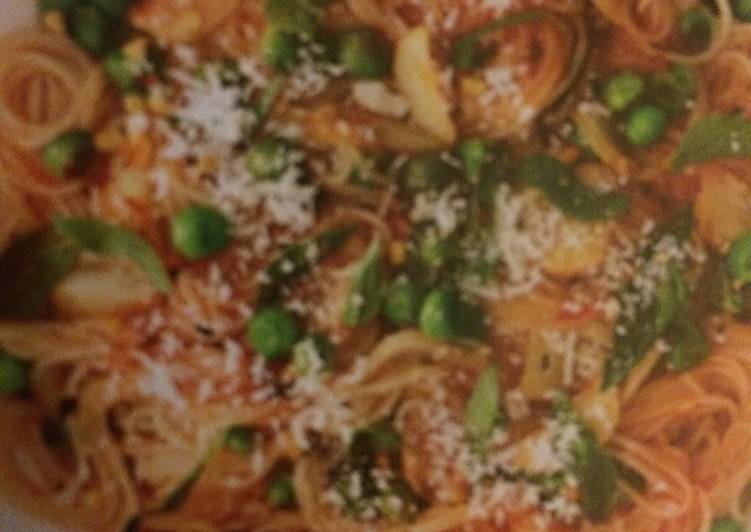 We call it Garlic Spaghetti in our family, and it's epic. I'll show how to make it, and as usual, rudely. A lighter take on heavy tomato based pasta sauces. You can cook Garlic-Tomato Pasta With Peas using 8 ingredients and 2 steps. Here is how you cook it.
Ingredients of Garlic-Tomato Pasta With Peas
Prepare 1/4 cup of Extra Virgin olive oil.
Prepare 6 clove of Garlic.
Prepare 3 tbsp of Tomato paste.
Prepare 1/4 tsp of Red pepper flakes.
Prepare 1 cup of Frozen peas, thawed.
You need 10 oz of Angel hair pasta.
It's 1/2 cup of Fresh basil, roughly chopped.
It's 1/2 cup of Grated Parmesan cheese.
Stir frequently to ensure the garlic does not burn. A hearty, flavorful plant-based meal or side. Once your pasta is drained, heat a large saucepan or cast iron skillet over medium heat. Once hot, add olive oil, garlic, and sun-dried tomatoes.
Garlic-Tomato Pasta With Peas instructions
Bring a large pot of salted water to a boil. Heat the olive oil in a large skillet over medium heat. Add the garlic and cook, stirring occasionally, until the edges start turning golden, about one minute. Add the tomato paste to the skillet and cook, stirring, one minute. Add the red pepper flakes, then add 1 1/2 cups of the boiling water; stir to dissolve the tomato paste, simmer until reduced by half, about five minutes, Adding the Peas ispeas halfway through. Season with salt..
Meanwhile, add the pasta to the boiling water and cook until softened but not cooked through, 2 to 4 minutes. Reserve 1/2 cup cooking water, then drain. Add the pasta to the skillet along with the basil; toss over medium heat, adding more of the reserved cooking water if needed, until the pasta is al dente. Remove from the heat and stir in 1/4 cup Parmesan. Top each serving with basil and the remaining Parmesan..
Cook pasta al dente in a saucepan of boiling, salted water. Heat the oil over medium heat in a large skillet. Combine the tomatoes, garlic, salt, pepper, balsamic vinegar, basil, and olive oil in a wide bowl. Add a generous amount of salt and the pasta. Cook al dente, until the pasta is firm to the bite.