Bakewell Coconut & Caramel Pie.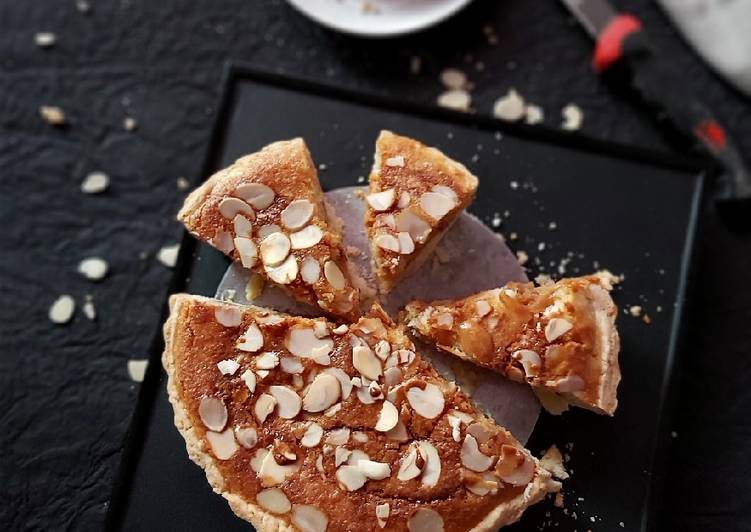 You can cook Bakewell Coconut & Caramel Pie using 15 ingredients and 13 steps. Here is how you achieve that.
Ingredients of Bakewell Coconut & Caramel Pie
It's For of Pie crust-.
You need 1 cup of maida/all purpose flour.
It's 1/3 cup of icing sugar.
Prepare 1/3 cup of salted butter.
It's 2 teaspoons of apple cider vinegar.
It's For of Filling-.
It's 3/4 cup of dessicated coconut.
You need 2 tablespoons of Maida.
You need 1/4 teaspoon of Baking powder.
It's 1/4 cup of sugar.
It's 50 ml of cold milk.
It's 1/4 cup of Cold Water.
Prepare For of Topping-.
Prepare 2 tablespoons of Caramel sauce.
It's 2 tablespoons of almond flakes.
Bakewell Coconut & Caramel Pie step by step
To prepare the filling, in a mixing bowl, you need to add in coconut, flour, baking powder, sugar, milk and water and mix well..
Keep this mixture in the refrigerator for an hour or so. Prepare the crust in the meanwhile..
To make the crust, mix maida, icing sugar and soft butter, so it looks like fine meal..
Add vinegar and mix..
Now add milk and water mixture in tablespoons to make a tough dough. Set in fridge to chill..
To make the Pie: remove the dough from the fridge after an hours rest. Roll out the dough into an 8 inch disc..
Grease a 7-inch pie tray. Place the disc and gently press it to line the bottom and sides of the tray. Chop off the excess with a knife..
Preheat oven at 180°C..
Remove the filling from the refrigerator and mix it nicely..
Pour this awesome filling in the prepared tart shell. Top with caramel sauce. Make spiral waves using a toothpick..
Sprinkle almond flakes on top. Place the shells in a baking tray and bake for 20-25 minutes.
Centre part will be little jiggly when hot. Pie is ready to be served..
Enjoy this pie warm or chilled. It tastes delicious any which way..