Schwäbisch Maultaschen (Big, Fat German "Ravioli").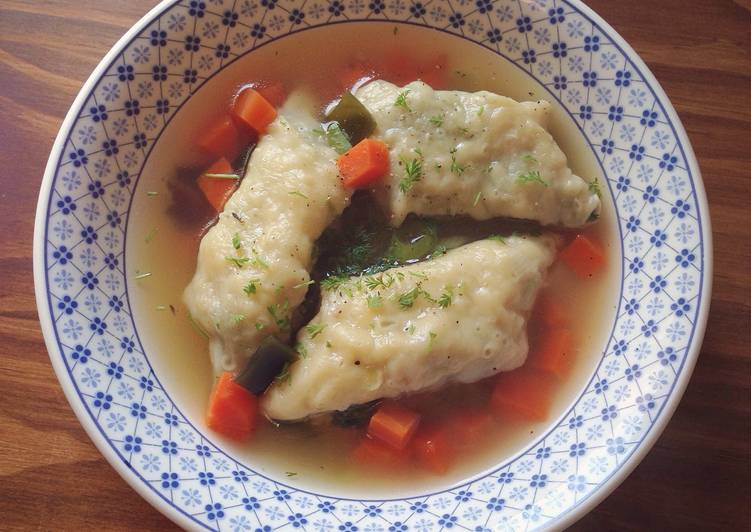 You can have Schwäbisch Maultaschen (Big, Fat German "Ravioli") using 16 ingredients and 15 steps. Here is how you cook that.
Ingredients of Schwäbisch Maultaschen (Big, Fat German "Ravioli")
It's of noodle dough -.
It's 250 g of Flour (2 cups).
You need 2 of Eggs.
You need 4-6 Tbsp of water.
It's 1/2 tsp of Salt.
You need of filling -.
It's 150 g of Ground beef or pork/beef mix.
It's 1 bunch of Fresh spinach (around 150-170g).
Prepare 1 of Egg.
Prepare 3/4 cup of Breadcrumbs.
You need 1 of medium onion, finely minced.
Prepare to taste of Salt & pepper.
You need 1/2-1 tsp of Nutmeg.
You need of other -.
Prepare 2 liters of Chicken or other soup broth.
It's of Parsley, to garnish.
Schwäbisch Maultaschen (Big, Fat German "Ravioli") instructions
DOUGH: Combine flour with 2 eggs, 1/2 tsp salt and 4-6 Tbsp water in a bowl. Mix until dough comes together. Remove from bowl and knead on a floured surface until smooth. Wrap and let rest for 30 minutes..
FILLING: While the dough is resting, boil spinach for 1-2 minutes. Drain and dunk in very cold water. Squeeze out excess water and finely chop or process in a blender. (You can use the equivalent amount of frozen spinach as well)..
Mix the spinach, meat, minced onion, bread crumbs, egg, nutmeg and salt & pepper together so everything is well blended..
METHOD 1 (Ravioli Style): Flour a working surface to roll out dough. Roll out thin into a large rectangle. Cut into smaller rectangles about 6 x 12 cm (2.5 x 5 in) with a knife or pie cutter..
Place a tablespoon of the filling on each dough rectangle, slightly off center. Fold over the dough and seal the pocket by pressing down around the meat filling..
Place on a floured tray or plate until all maultaschen are finished..
METHOD 2 (Rolled Maultaschen): This method is the easiest and fastest. Roll out the dough into one big rectangle (you might want to split the dough in half so it's more manageable) and spread the filling out evenly..
Roll up into a long roll. Seal the end with a little water..
Cut diagonally into thick pieces. The filling will be exposed but it will stay put when cooking if rolled up tightly..
METHOD 3 (Hybrid): Roll out the dough into one big rectangle and spread the filling out evenly, leave some space open on one side..
Fold into three, sealing the edge of the fold with a little water. Form square pockets by pressing down along the roll with the round handle of a wooden spoon. This will create a seal between each maultaschen..
Cut the pressed area with a knife or pasta cutter..
TO COOK: Bring the soup to a boil. Add the maultaschen and turn down to a simmer..
Simmer for 12-15 minutes. You can add a few veggies in the soup too if you like, though the 'classic' way is to just enjoy in the broth..
Dish out into shallow bowls and pour over some broth (it doesn't have to be a lot, because you want to be able to cut the maultaschen). Garnish with chopped parsley..