Cheesy Baked Ziti.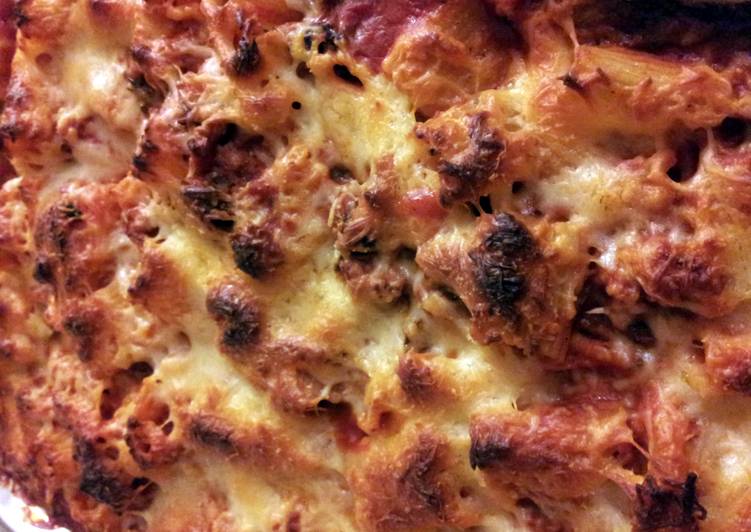 You can have Cheesy Baked Ziti using 17 ingredients and 12 steps. Here is how you achieve that.
Ingredients of Cheesy Baked Ziti
You need 1 box of ziti noodles.
You need 8 cup of water.
It's 1 dash of salt.
It's 1 lb of spicy sausage.
You need 1 medium of sized onion.
Prepare 4 clove of garlic.
It's 2 can of tomato paste.
You need 1 can of tomato sauce.
Prepare 1 cup of water.
Prepare 1 tbsp of italian seasoning.
Prepare 1 tsp of oregano.
It's 1/2 tsp of garlic powder.
It's 1/2 tsp of cayenne pepper (optional – I like to spice it up!).
It's 1/2 tsp of salt.
It's 2 tbsp of fresh parsley.
Prepare 2 cup of parmesan cheese.
Prepare 3 cup of mozzerella cheese.
Cheesy Baked Ziti step by step
Preheat oven to 350°.
In a large pot add water, salt, and ziti noodles. Cook til al dente, drain and set aside. (I toss with a tsp. oil to prevent sticking).
In skillet or medium pot, over medium heat, add sausage and onion and cook til brown then drain..
Add garlic to sausage and onion and give a stir to soften..
Add tomato paste, tomato sauce, and 1 cup water to sausage mixture. Stir until mixture is smooth..
Add Italian seasoning, oregano, garlic powder, cayenne pepper and salt..
Bring sauce to a slow boil and turn down to simmer for 5-10 minutes..
Add fresh parsley and stir..
In 9×11 baking dish add noodles, sauce, 2 cups parmesan cheese and 2 cups mozzarella cheese. Stir all until thoroughly mixed..
Top with 1 cup remaining mozzerella cheese..
Bake at 350° for 45 minutes..
Allow to cool for 10-15 minutes and serve..