High Protein CHOCOHOLIC.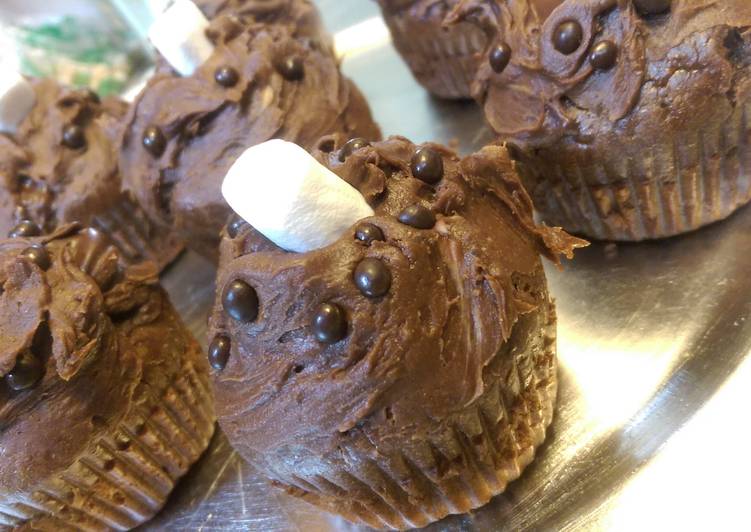 You can have High Protein CHOCOHOLIC using 19 ingredients and 9 steps. Here is how you cook that.
Ingredients of High Protein CHOCOHOLIC
You need of CUPCAKES.
Prepare 1/2 cup of Garbanzo Bean Flour.
You need 1 of Heaping Scoop of PROTEIN POWDER (I used Syntha-6 Vanilla Ice Cream).
It's 1/4 cup of Unsweetened Cocoa Powder (or more depends on you).
Prepare 1/2 tsp of Baking Powder.
You need 1/4 tsp of Fine Sea Salt.
It's 4 of Eggs.
You need 1/2 cup of Agave Nectar.
It's 1/3 cup of Coconut Premium Oil (liquid).
Prepare 2 tbsp of Coconut Milk.
It's 2 tsp of Vanilla Extract.
Prepare of FROSTING.
Prepare 1 cup of Chocolate PB2.
You need 1/4 cup of Butter (softened/mushy… not melted).
Prepare 1 cup of Confectioners Sugar (need to replace with healthier substitute next time).
You need 1/4 cup of Coconut Milk.
Prepare 1 tsp of Vanilla Extract.
You need 1 of Dark Chocolate Covered Hemp Seeds for topping.
Prepare 1 of Vegan Airpuffed Mini Marshmallows (or regular).
High Protein CHOCOHOLIC step by step
Preheat oven to 350.
Line cupcake tin with cupcake liners and spray those liners (8 cupcakes).
Whisk together flour, protein powder, baking powder, salt..
Whisk into the dry mixture the eggs, agave nectar, oil, milk, vanilla extract ; keep whiskin' that thang up… Get it smooth and all blended well..
Spoon the batter into liners (8 cupcakes).
Bake for 25/30 min. (stick toothpick in to make sure)…. Just before cupcakes are done, if you want, stick 3 dark chocolate morsels in each cupcake..
THEN… mix Chocolate PB2 and Butter in mixer (I used my shake blender)…add sugar, milk, vanilla… Keep mixing….
When cupcakes are cool… frost each one… Then set Dark Chocolate Hemp Seeds on frosting… Then one mini Marshmallow on each cupcake..
Store in refrigerator for about 5 days..