Butternut Squash Farfalle.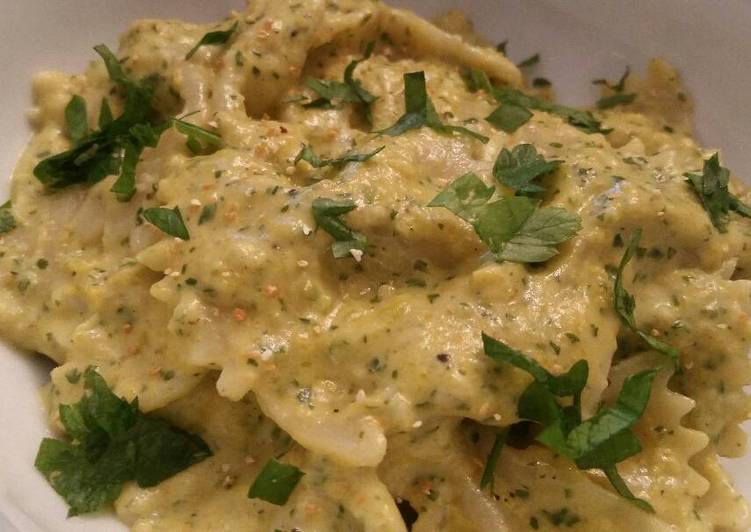 You can have Butternut Squash Farfalle using 13 ingredients and 9 steps. Here is how you achieve that.
Ingredients of Butternut Squash Farfalle
Prepare 2 C of farfalle noodles; measured dry.
You need 1 of butternut squash; peeled, seeded, & small dice.
Prepare 1 of yellow onion; medium dice.
Prepare 4 cloves of garlic; minced.
You need 1 C of heavy cream; warm on stove.
You need 3 T of butter; cubed.
Prepare 1.5 C of vegetable stock.
It's 1 T of orange peel seasoning.
You need 1/2 bundle of parsley.
Prepare 1/4 C of pine nuts; toasted.
It's 1/4 C of romano cheese; grated.
It's as needed of olive oil.
It's as needed of kosher salt & black pepper.
Butternut Squash Farfalle step by step
Heat vegetable stock in a small sauce pot to a simmer. Reduce to 1/2 C.
Heat a large saute pan with enough oil to cover the bottom..
Add butternut squash and onions. Season with salt and pepper. Saute on medium heat until squash is thoroughly caramelized and cooked, about 5-8 minutes. Add garlic during last 30 seconds of cooking time..
Boil noodles until al dente. Reserve 1/2 C water. Drain. Drizzle enough extra virgin olive oil atop the noodles to fully coat..
Transfer butternut squash mixture, parsley, pine nuts, cheese, orange peel seasoning, and vegetable stock to a food processor. Puree until combined..
Transfer butternut puree to a large sauce pot. Add butter while shaking pan and stirring with a wooden spoon. This is a french technique called monte au buerre, "mount the butter".
Ladle a scoop of puree into the cream. Whisk. Repeat one more time. Stir cream into puree. Simmer for 5 minutes..
Ladle as much sauce as desired into a mixing bowl with the noodles. Toss. Serve..
Variations; Brown sugar, allspice, pumpkin, mace, cinnamon, nutmeg, pumpkin pie spice, clove, ginger, honey, apple, arugula, spinach, artichoke, basil, white beans, cardamom, carrots, white wine, cider vinegar, balsamic, thyme, sherry, sunflower seeds, shallots, sesame seeds, savory, rosemary, sage, saffron, crushed pepper flakes, cayenne, jalapenos, ancho chile, chipotle, lime, cheddar, asiago, ricotta, cream cheese, gruyere, parmesean, pecorino, walnuts, pecans, celery root, celery, chickpeas, chives, cilantro, coriander seed, curry, maple, corn, fennel, cumin, herbes de provence, rosemary, coconut milk, mushrooms, almonds, pistachios, pumpkin seeds, peanuts, hazelnuts, lemongrass, leeks, kale, canola oil, scallions, oregano, smoked paprika, red onion,.