Tortiglioni with Red Tomato Pesto. A healty pasta dish with red peppers and tomatoes. Ingredients – olive oil – onions – red peppers – tomatoes – tomatoes sauce – basil – salt – liquid fresh. E' terminato -ahimè- il periodo del classico e indiscusso pesto di basilico, "certezza" dell'estate e non solo.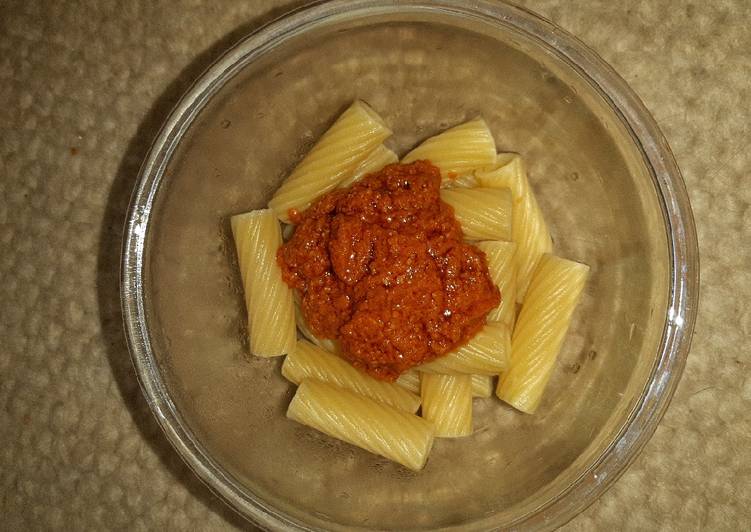 Tortiglioni with tomato sauce, meat and parmesan on wooden background. Homemade tortiglioni pasta with vegan pesto sauce Food photography of an Italian pasta dish with a tomato and cream sauce with artichokes and parmesan cheese Pasta with cheese and tomato sauce and pickled. Pesto Rosso (which simply means Red Pesto in Italian) is a Sicilian Pesto that has a base of sun-dried tomatoes flavored with fresh herbs and parmesan What Is Red Pesto Made Of? You can have Tortiglioni with Red Tomato Pesto using 2 ingredients and 1 steps. Here is how you cook that.
Ingredients of Tortiglioni with Red Tomato Pesto
Prepare 100 g of Tortiglioni Pasta.
It's 4 tbsp of Red Tomato Pesto.
Typically, it's made with a base of sundried tomatoes, fresh basil, garlic, nuts, and parmasean cheese, but there are. Or, even worse, sundried tomato pesto. Pesto is a natural foil for warm potato and pasta salads and it has a long, noble history as a Trofie (worm-like twists), trofiette, spaghetti and the flatter linguine and are all traditionally recommended for pesto, but HtE prefers tubular tortiglioni (like slightly larger. Fettuccine al pesto di Pomodorini Secchi Bio e noci.
Tortiglioni with Red Tomato Pesto instructions
Simply cook the Tortiglioni in salted water and serve with Red Pesto.
Pasta al pesto diversa dal solito – Ricetta Portata principale : Tortiglioni al pesto di zucchine e speck da Golositandovi. Preparare un pesto con le erbe, olio di oliva, pecorino e mandorle in un frullatore a bicchiere e aggiustare sale e pepe. Asciugare le acciughe in olio e creare una polvere con il mortaio. Pulire e lavare i funghi, spadellarli con olio, sale, pepe e qualche rondella di peperoncino Unire la pasta fredda ai. Oggi una nuova variante del pesto.