Steamed Pesto Chicken Rolls with Whole Wheat Pasta. I did use whole wheat pasta and I marinated the chicken in a little Italian dressing and Pesto Vinagrette dressing. I also did not use oil to saute the chicken I used a tsp. of the oil from the sun dried tomatoes. I served it with a green salad and everyone was happy!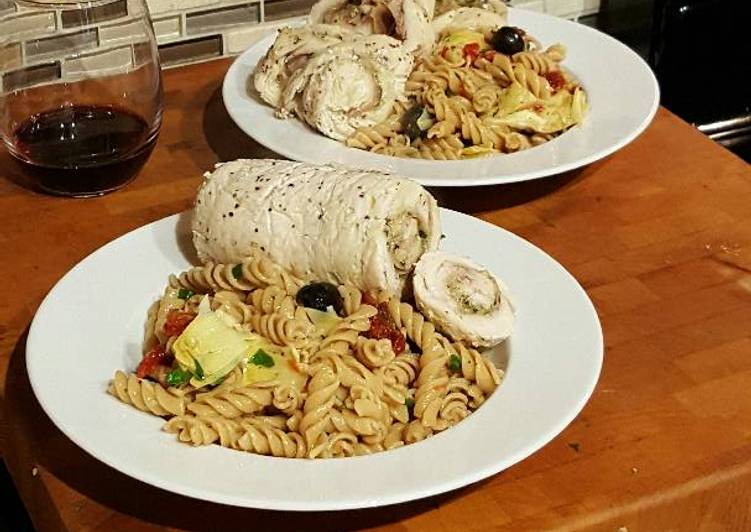 Chicken and pasta with lemon pesto is an easy and elegant main dish recipe perfect for entertaining. The whole lot is piled between two slices of crispy, buttered whole wheat bread, to create one explosively flavorful sandwich. Once upon a time, whole wheat pasta tasted a lot like cardboard, but no more! You can cook Steamed Pesto Chicken Rolls with Whole Wheat Pasta using 13 ingredients and 22 steps. Here is how you achieve that.
Ingredients of Steamed Pesto Chicken Rolls with Whole Wheat Pasta
It's 2 of chicken boobs.
You need 4 oz of prosciutto.
It's 4 Tbsp of pesto.
It's 16 oz of whole wheat rotini.
You need 14 oz of can small black pitted olives.
You need 14 oz of can artichoke hearts, quartered.
You need 10 of sun-dried tomatoes, sliced.
It's 2 of lemons, juiced.
You need 1/4 c of parsley, chopped.
Prepare 1 of top dried basil.
You need 2 Tbsp of butter.
You need 3 Tbsp of olive oil.
You need of salt and pepper.
Spaghetti, fettucine, bucatini and other forms of whole wheat, or whole grain, pasta would all work beautifully here. Pour on the pesto, pasta, and chicken and stir to combine. This super lush and Creamy Pesto Chicken Pasta is perfect for busy weeknights. Because this pasta to broth ratio is very important in one pot pastas I can't vouch for alternative pastas like gluten-free, rice, chickpea, or even whole wheat.
Steamed Pesto Chicken Rolls with Whole Wheat Pasta step by step
Start by placing a medium pot of salted water to boil for the pasta and a pot with steamer insert and an inch of water to boil for the chicken.
Assemble ingredients.
Butterfly the chicken. Begin by placing each breast down on a cutting board. Lay your hand on top of the breast and insert a knife between the breast cutting the breast in half..
The breast should unfold..
Separate the butterflied breast. Repeat for the other breast..
Place a layer of plastic wrap over a chicken breast to prevent splatter..
Using a meat mallet or rolling pin pound the breasts gently until uniformly 1/4 inch thick..
Season liberally with salt and pepper (and MSG if you feel like it). Remember this will be steamed so you won't build flavor by cooking, thus you need to season well..
Tear off 4 sheets of aluminum foil and stack..
Spray foil with pam. Place a chicken on the foil. Layer two pieces of prosciutto on the chicken.
Spread 1 Tbsp pesto on the chicken.
Roll the chicken up.
Roll the foil over the chicken into a tube.
Tighten the tube by twisting the foil ends in opposite directions to form a cyliner.
Repeat with remaining chicken.
Combine the olives, artichoke, tomatoes, lemon juice, basil, parsley, butter and oil in a bowl. Season with salt and pepper.
Place the chicken in the steamer..
Pour the noodles in the pot of water..
Boil and steam for 10 min..
Reserve 1/3 cups of noodle water. Drain noodles..
Return noodles to the pot, add the reserved pasta water, and the artichoke mixture. Stir to melt the butter. Taste for seasoning. No seriously…taste it. It likely needs salt. Whole wheat pasta is dry and there's no sauce. Give it a sprinkle. If it's dry… a little more oil..
Plate with pasta and sliced chicken..
Chicken Pesto Pasta is chicken and penne in a basil pesto sauce. This is one of those recipes that's great for a busy weeknight. You only need a handful of ingredients to make it. This video is about how to prepare Pesto Chicken Pasta. In a serving bowl, toss the noodles with the pesto, adding a little of the reserved pasta water to loosen the sauce until it achieves desired consistency.