Leah's Thanksgiving Turkey.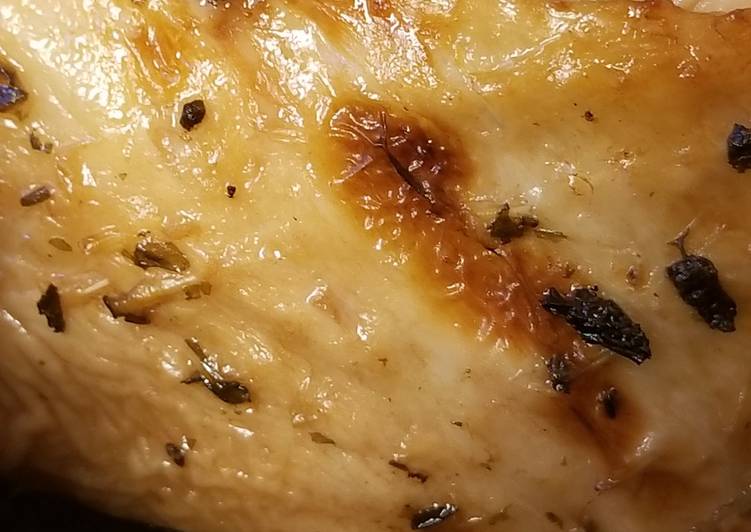 You can have Leah's Thanksgiving Turkey by using 7 ingredients and 15 steps. Here is what you need to do to achieve that:
Ingredients of Leah's Thanksgiving Turkey
It's 1 of Turkey (large).
You need 1 tbsp of flour.
It's 1 cup of Manischewitz Blackberry wine.
You need of Herbed non-dairy buttery spread.
Prepare 1 cup of Butter flavored Crisco or non dairy margarine.
It's 1/4 cup of minced, fresh herbs which may include thyme, rosemary, parsley and any fresh herbs you may have on hand.
It's 3 clove of crushed garlic.
Leah's Thanksgiving Turkey instructions
Pre-heat oven to 350°F.
Place the Crisco or margerine in a plastic (sandwich size) bag. Add the herbs and garlic and squeeze the bag until well mixed..
Remove the neck and inner parts from the turkey..
Rinse the turkey inside and out. Pat dry..
Cut several (at least 6 on each side and at least 6 on the bottom) 1 inch wide and 2 inches long pockets directly under the skin running along but not into the meat..
Fill the skin pockets with the Crisco mixture..
Rub remaining Crisco mixture all over the Turkey..
Place flour in Turkey-sized roasting bag. Hold bag closed and shake well..
Place the roasting bag in a deep roasting pan..
Place the Turkey in the roasting bag..
While the turkey is in the bag which is in the pan, pour the wine over the Turkey..
Close the bag with the tie that is included in the roasting bag package. Tuck the ends of the bag under the turkey and make sure that none of the bag overlaps over the sides of the pan..
Cut six 1/2 inch holes in the bag so that steam may vent..
Roast for approximately 2 1/2 hours, basting with more wine (use a turkey baster through one of the slits) every 30 minutes until meat thermometer registers at least 185°F and the turkey is golden all over..
If you are cooking and storing the turkey before serving, let the turkey cool at least 1/2 hour, carve the turkey then make and additional batch of Crisco mixture and place in container on top of the turkey, seal and store in refrigerator no more than 2 days. Reheat in low temp oven (no more than 250f).