Broccoli Chicken Fettuccine Alfredo. Do yourself a favor, and If it's fettuccine alfredo you want, you're craving this. Delicious fettuccine pasta in a classic rich and creamy Alfredo sauce with chicken and broccoli. When she immigrated to America from Italy, Mama Michelina brought with her a wealth of family recipes and a passion for cooking.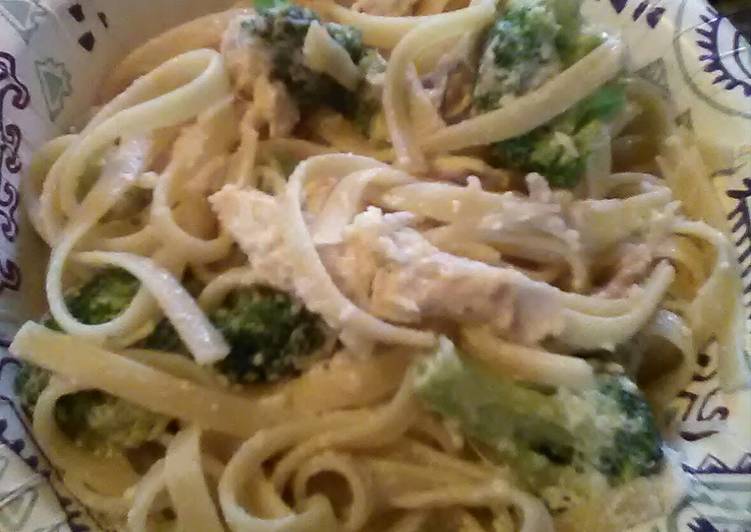 Tender broccoli florets, hearty pasta, and a creamy indulgent sauce make for great vegetarian main dish. Chicken Fettuccine Alfredo Recipe – Fettuccine pasta loaded with chicken and mushrooms in a creamy and chicken fettuccine alfredo-. Chicken breast is seasoned and cooked until it's crispy on the Broccoli, peas, green beans or asparagus are all great options to add. You can cook Broccoli Chicken Fettuccine Alfredo using 10 ingredients and 8 steps. Here is how you cook it.
Ingredients of Broccoli Chicken Fettuccine Alfredo
It's 1 lb of fettuccine pasta.
It's 3-4 cups of chopped broccoli florets.
Prepare of Approx. 1 1/2 cups chopped, cooked chicken.
Prepare 4 TBS of unsalted butter.
You need 1 tsp of minced garlic.
It's 2 cups of half & half (or heavy cream).
Prepare 1 cup of shredded or grated parmesan cheese.
You need 2 TBS of olive oil.
Prepare To taste of salt and pepper.
You need To taste of onion powder.
Four of our favorite dinnertime ingredients come together in this chicken broccoli Alfredo pasta dish—versatile chicken breast, family-friendly broccoli, always-on-hand pasta and a homemade Alfredo sauce that comes together in a snap. Alfredo sauce is certainly not one of those "clean-eating" New Years type dish, but with all this broccoli, it all balances out, right? You get a lightened up creamy alfredo sauce blended with plenty of fresh lemon, tossed with fettuccine noodles and paired with grilled chicken I originally was going to title this Lemon-Pepper Fettucine Alfredo with Grilled Chicken and Broccoli, but I decided to shorten it and omit "Pepper." Mom's creamy Chicken Fettuccine Alfredo has been a family favorite for years! Classic Chicken Alfredo is a feel good comfort food – so creamy but light!
Broccoli Chicken Fettuccine Alfredo step by step
Bring a large pot of water to boil..
Meanwhile, heat a large skillet over medium high heat with 1 tablespoon olive oil. Add the broccoli, season with a pinch of salt, pepper, and onion powder. Cook uncovered for about 4 minutes (until bright green). Add a splash of water and cook uncovered until broccoli is crisp tender..
Add the cooked chicken to the skillet with the broccoli and heat through. Remove from skillet and set aside. (Rotisserie chicken works great for this, or you can just cook your chicken fresh in the skillet once you remove the cooked broccoli)..
When water begins to boil, add fettuccine and cook until al dente (or your preferred consistency)..
Melt the butter and 1 TBS of olive oil in the skillet. Add the garlic and cook for about 30 seconds. Add the half & half and parmesan cheese. Cook until cheese is melted and sauce just begins to bubble then turn heat to low..
Drain pasta and reserve a bit of the water just in case you need to thin the sauce..
Add pasta to the skillet and toss to coat with sauce. Add cooked chicken and broccoli and combine well..
Serve topped with shredded parmesan cheese, if desired..
I can't imagine that I am the only one who can use a little dinner-time inspiration! This recipe is a family favorite for a couple of reasons: we all love pasta and we all love broccoli. Combine the fettuccine and sauce in a large bowl, stirring until the pasta is coated. Toss with the broccoli and sliced chicken. Did you know that Fettuccine Alfredo was invented by a Roman restaurateur called Alfredo, who became famous for serving it with a gold fork and spoon.