Maple and Brown Sugar Twist.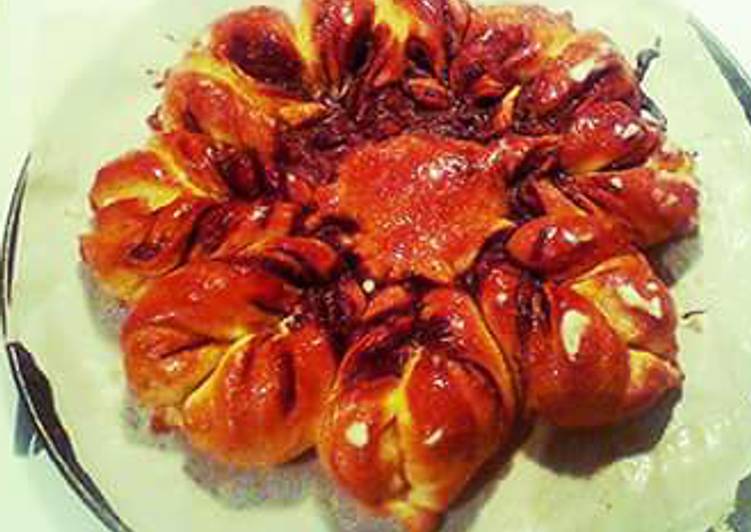 You can have Maple and Brown Sugar Twist using 17 ingredients and 24 steps. Here is how you achieve it.
Ingredients of Maple and Brown Sugar Twist
Prepare 2 Tablespoons of yeast.
It's 1 cup of warm water.
You need 1/2 cup of sugar plus 1 teaspoon.
It's 1/2 cup of butter or oil.
It's 3 of eggs well beaten.
It's 1 1/2 tsp. of Salt.
It's 4 1/2-5 cups of All purpose Flour.
It's of Filling:.
It's 1 cup of brown sugar.
You need 1/3 cup of pecan or walnuts.
It's 1 tsp. of Cinnamon.
It's 1 tsp. of Maple extract.
You need of Glaze:.
It's 2 tbsp. of Butter melted.
It's 1 tbsp. of Milk.
It's 1/2 tsp. of Maple extract.
It's 1 cup of powdered sugar.
Maple and Brown Sugar Twist step by step
In bowl add warm water, yeast and tsp of sugar. Stir.
While yeast is foaming, sift flour and salt in separate bowl..
When yeast has bloomed, add beaten eggs, sugar and oil. Mix well..
With dough hook attatchment, on lowest setting, start adding flour and salt mixture..
Knead on medium speed about 5 minutes. Scraping down sides few times..
The dough should be slightly pulling away from sides. It should just barely stick to your finger when tested..
If it is too sticky, add a little more flour and knead another minute..
Let dough rise in warm place until doubled in size..
Punch down dough and turn out on heavily floured surface..
Knead with hands until dough is elastic and does not stick to hands. Usually a couple minutes..
Divide dough into 3 equal balls..
Spray a round pizza pan with non stick spray..
Stretch and roll out first ball to fit inside bottom of pan..
Brush dough with 1/4 of the melted butter..
Sprinkle 1/3 filling over entire surface. Patting down into dough..
Repeat with next two balls of dough laying next layer over top of last..
When you have all 3 layers ready, use 2 inch round lid or such to make indent of circle in middle of dough. Do not cut just make slight impression..
Starting from outside of the circle in the middle, use a sharp knife or pizza cutter is best, cut 16 equal wedges..
I start out like cutting a pizza and just cut 8 in half to make 16 wedges..
Take 2 strands and twist in opposite directions and pinch ends together of two strands. Repeat with all strips..
Bake at 350 for roughly 20 to 30 minutes. Check at 20. Cook until golden brown and no longer doughy in middle..
Sometime i lay foil over top when it starts to brown then finish browning after center is set..
Brush with melted butter. Serve warm or room temperature..
.