Use-up Chicken Soup.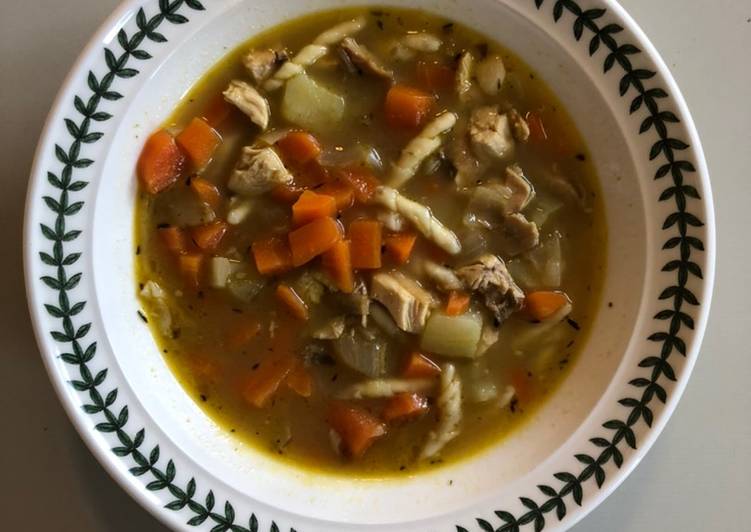 You can have Use-up Chicken Soup using 13 ingredients and 6 steps. Here is how you achieve that.
Ingredients of Use-up Chicken Soup
It's 1 tbsp of olive oil.
It's 2 of onions, chopped.
Prepare 3 cloves of garlic, chopped.
It's 3 of carrots, diced.
You need 1 of large potato, diced.
Prepare 1 3/4 litres of chicken stock. I'd already made some from the chicken carcass and topped up with a stock cube diluted in boiling water.
You need 250 g of leftover cooked chicken, in smallish pieces.
It's of Salt and black pepper.
You need 1 tsp of dried thyme.
It's 1 tsp of dried rosemary.
Prepare 1 tsp of zatar.
It's 2 of bay leaves.
It's Handful of dried pasta. I used up some Trofie I'd got in, otherwise any pasta you like but broken into small pieces. Use 2 handfuls of pasta if you want an even bulkier soup.
Use-up Chicken Soup instructions
Heat the oil in a large saucepan or stockpot and gently fry the onion for 3 minutes to soften but not brown..
Add the garlic, stir and gently fry for another minute. Then add the carrots, gently stir again and fry for a further 2 minutes. Then add the potato, fry on a slightly higher heat for another 2 minutes, stirring thoroughly but gently to avoid sticking..
Add the stock, about 1/2 litre at a time, whilst continuing to stir. When all the stock is in, add a little salt, some black pepper and the herbs. Give it all a good stir and bring to the boil..
Reduce to a fast simmer, add the chicken, stir again to mix well and cover and simmer for 15 minutes, stirring occasionally..
Stir in the pasta and continue to cook on a fast simmer for 8-10 minutes or until the pasta is how you like it. I go for al dente plus one minute. Remove and discard the bay leaves, taste and add further seasoning if wished..
Serve piping hot. Granary bread or a crusty roll is a pleasant accompaniment but, with the pasta included, the soup by itself is pretty filling..