Matcha Green Tea and Maple Syrup Bagels.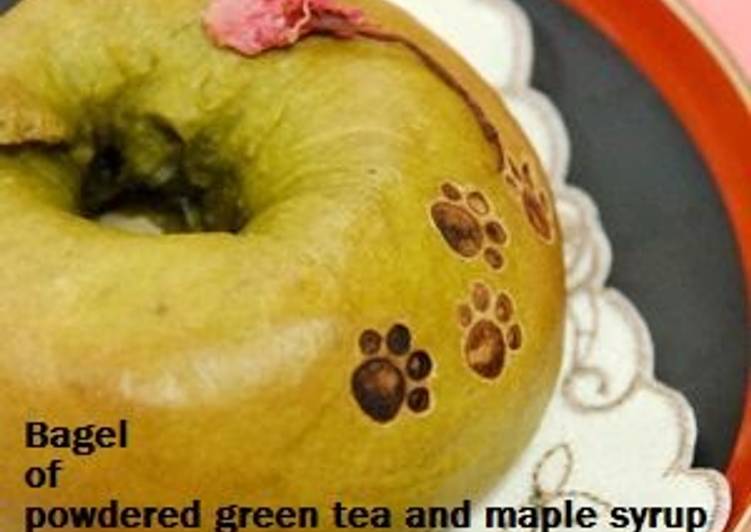 You can cook Matcha Green Tea and Maple Syrup Bagels using 7 ingredients and 7 steps. Here is how you cook it.
Ingredients of Matcha Green Tea and Maple Syrup Bagels
Prepare 180 grams of ◎ Bread (strong) flour.
You need 90 grams of ◎ Water.
Prepare 15 grams of ◎ Maple syrup.
It's 7 grams of ◎ Matcha.
It's 2 grams of ◎ Salt.
It's 1/2 tsp of ◎ Dry active yeast.
Prepare 1 tbsp of Honey, sugar, or molasses.
Matcha Green Tea and Maple Syrup Bagels instructions
Add the ◎ ingredients into a bowl and mix with your hands. Take the dough out onto a flat surface and knead for about 15 minutes..
Divide the dough into 4 pieces and roll them up. Cover with a plastic wrap or a dampened towel and let rest for 10 minutes..
Roll it out into a 15 x 7 cm oval shape. Leaving 3 cm of width at the right end, fold in 3 layers and tightly seal the seam..
Cover the left end with the 3 cm edge on the right and make it into a doughnut shape. Let rest for 20 minutes at 35℃..
Bring plenty of water to a boil in a frying pan, reduce to low heat and add honey. Gently insert the bagels and cook 30 seconds each side..
Transfer to a baking sheet, and immediately transfer to a preheated 200℃ oven. Bake for 20 minutes at 180℃ and they're done..
This how they looked when I mixed in some white anko (sweet bean paste) and white chocolate..