Mom's Special Salad.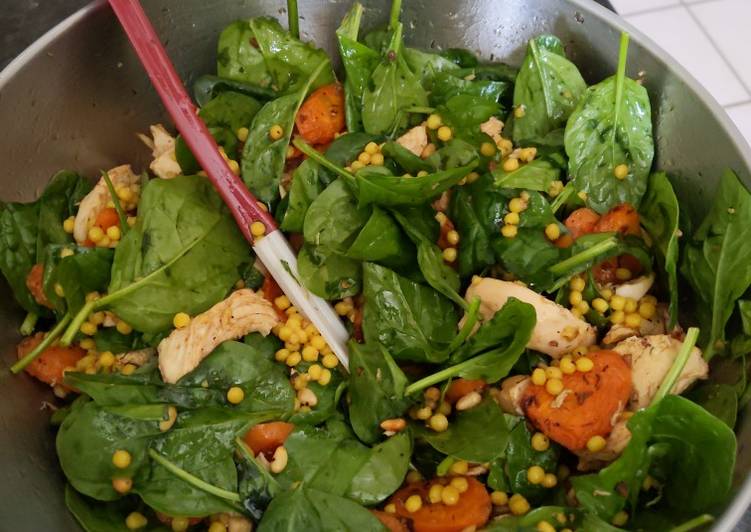 You can have Mom's Special Salad using 13 ingredients and 5 steps. Here is how you achieve it.
Ingredients of Mom's Special Salad
It's 1 (5 oz) of bag spimach.
Prepare 1/2 lbs of chicken breast.
You need 12 of large carrots.
Prepare 1 cup of Israeli couscous.
It's 1/2 cup of roasted pine nuts.
You need of Salt.
It's of Freshly ground pepper.
You need of Dried dill.
Prepare 1/3 cup of olive oil.
You need 3 tbsp of white balsamic.
Prepare 2 tsp of chopped garlic.
Prepare 1/2 tsp of salt.
Prepare 1/2 tsp of black pepper.
Mom's Special Salad step by step
Preheat oven to 425.
Peel carrots, thinly slice on a diagonal. Place on parchment covered cookie sheet. Drizzle lightly with olive oil, sprinkle with dill, salt, and pepper. Roast in oven untill cooked and the edges of the carrots are slightly brown (25-30 mins). Let carrots cool before adding to salad..
Cook chicken breast and shred by hand into bite sized pieces.
Toast pine nuts and cook Israeli couscous as per package instructions. Rinse couscous and coat with olive oil..
Toss to combine chicken, nuts, spinach, couscous, and dressing. Sprinkle with salt to taste..