Acorn Squash and Chickpea Stew over Couscous with Feta and Mint. Season the stew with Kosher Salt (to taste) and Ground Black Pepper (to taste). A healthy lentil moroccan stew made with chickpeas, butternut squash, and lentils! Heat the oil in a large pot over medium-high heat.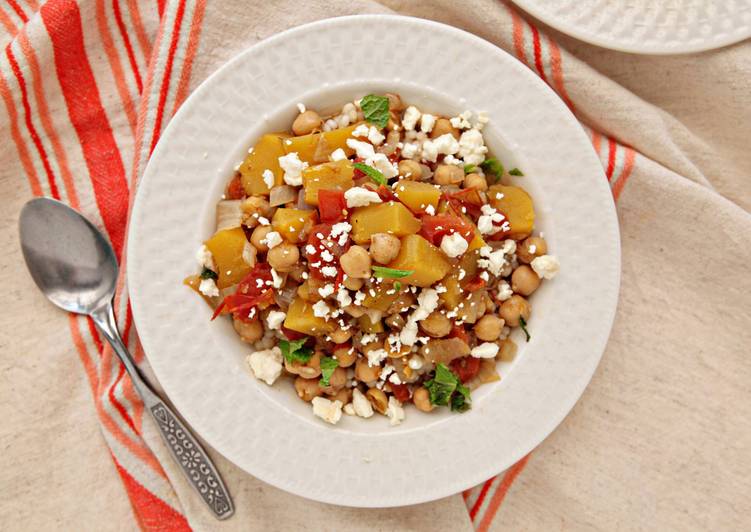 Watermelon and feta are a classic combination and. with Couscous, Feta, & Mint. Serve the finished couscous topped with the cooked vegetables and seasoned eggs. Transfer squash to serving platter; sprinkle with sage and feta. You can have Acorn Squash and Chickpea Stew over Couscous with Feta and Mint using 17 ingredients and 5 steps. Here is how you cook that.
Ingredients of Acorn Squash and Chickpea Stew over Couscous with Feta and Mint
It's 1 small of acorn squash, peeled and cubed.
It's 2 tbsp of olive oil, divided.
You need 1 small of onion, diced.
You need 2 of garlic cloves, minced.
Prepare 1 tsp of cumin, ground.
You need 2 tsp of coriander, ground.
Prepare 1 tsp of smoked paprika.
It's 1/2 tsp of cinnamon, ground.
It's 1 of Kosher salt, to taste.
It's 1 of Black pepper, to taste.
Prepare 2 of Roma tomatoes, roughly chopped.
Prepare 2 cup of chickpeas, cooked.
It's 6 cup of water, divided.
Prepare 1 1/2 cup of Israeli couscous.
You need 1 tbsp of butter.
It's 3 of sprigs fresh mint leaves, roughly chopped.
It's 1 1/2 oz of feta cheese, crumbled.
Ladle chickpea stew around couscous in each bowl. This exotically flavored stew can be stretched to feed a crowd when ladled over rice or potatoes. To many Americans, couscous refers to the tiny pearls of semolina we've come to know and love. Remove from heat and stir in preserved lemon and olives.
Acorn Squash and Chickpea Stew over Couscous with Feta and Mint step by step
Using a large chef's knife, cut off the blossom end and bottom of the acorn squash. The squash should sit flat on your cutting board. Remove the tough outer skin by cut- ting around the meat of the vegetable and rotating the squash. Cut the squash in half. Remove seeds and inner pulp with a kitchen spoon. Slice the squash into pieces length-wise. Take each slice of squash and cut into chunks..
Heat a medium-large saucepot over medium heat. Add 1 tablespoon olive oil, onion and garlic, cook while stirring for 2-3 minutes. Turn heat down to medium-low, add spices, salt and pepper. Cook while stirring for another 2-3 minutes. Add squash and cook 4-5 minutes while stirring. Turn heat to high. Add tomatoes, chickpeas, and 3 cups water. Bring to a boil, then turn down to medium-low, and simmer for 20-25 minutes, stirring occasionally..
Add 3 cups of water and the couscous to a medium saucepot over high heat. Bring to a boil. Turn heat down to low and stir occasionally. Cook until all water is absorbed. Remove from heat, and season with salt and butter..
The stew is ready when the squash is tender and the sauce is slightly thickened. If too thick, add a little water. If too thin, cook for 4-5 more minutes. Season the stew with salt and pepper..
Divide the couscous between two bowls, ladle the stew on top, then finish with mint, remaining olive oil and feta cheese. Enjoy!.
Serve over couscous garnished with cilantro, almonds, and yogurt. The specialty is couscous, and the various stews you ladle over it. Alex had the chicken, I had the vegetables, but I hear we really missed out on the Royal, which is One year ago: Goulash Two years ago: World Peace Cookies. Squash and Chickpea Moroccan Stew Adapted from Aida Mollencamp. I taught this vegan butternut squash and chickpea stew last February and I was waiting for the change in seasons to make it again.