Classic Ragù with Pasta.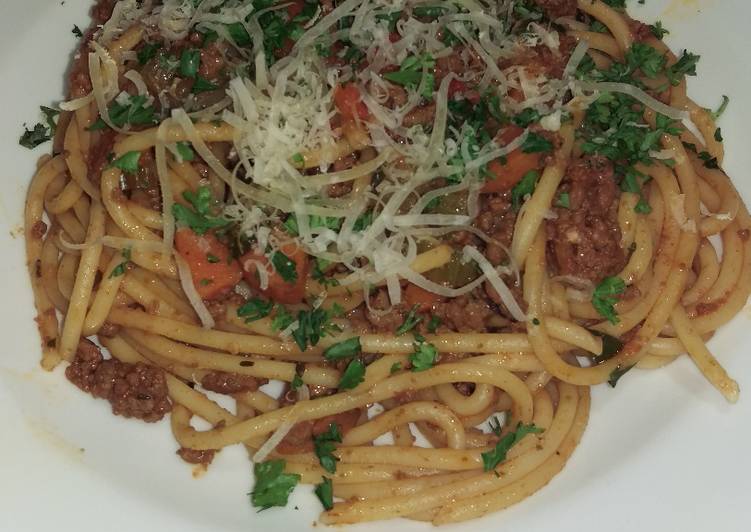 You can have Classic Ragù with Pasta using 18 ingredients and 8 steps. Here is how you achieve that.
Ingredients of Classic Ragù with Pasta
It's 4 tbsp. of extra-virgin olive oil.
You need 1 of medium onion, finely chopped.
It's 1 of large celery stalk, very finely chopped.
You need 1 of large carrot, peeled, very finely chopped.
Prepare 1 clove of garlic, peeled and sliced.
Prepare 1 lb. of ground beef (80-20).
Prepare 1/2 lb. of ground pork.
It's 3 slices of pancetta (or bacon), chopped.
Prepare 3 tbsp. of tomato paste.
It's 3/4 cup of dry red wine.
You need 2 1/4 cups of beef stock, divided.
You need 1 of "roasted" red bell pepper, skinned, seeded, chopped.
You need Dash of salt, pepper, thyme, oregano, and thyme.
It's 4 tbsp. of basil.
It's 1/2 cup of whole milk.
It's 1 lb. of fettuccine or bucatini pasta.
It's 1/4 cup of chopped parsley.
It's of Finely grated Parmesan (for serving).
Classic Ragù with Pasta instructions
Heat the oil in a large heavy pot over medium-high heat. Add the "soffritto" of onions, celery, and carrots. Sauté for 6-7 minutes. Add garlic and sauté for 1 minute. Place vegetables in a bowl and set aside..
Add ground beef, pork, and bacon; sauté, breaking up and turning with a large spoon, until browned. Add the vegetables to the pot and stir..
Add tomato paste, mix well, and heat for 1-2 minutes. Add wine; boil 1 minute, stirring often and scraping up browned bits..
Add 2 cups stock and the roasted pepper, stir to blend. Reduce heat to low and gently simmer, stirring occasionally, until flavors meld, 1.5 hours. Season with salt, pepper, oregano, thyme, and the basil..
Bring milk to a simmer in a small saucepan; gradually add to sauce. Cover pot with lid slightly ajar and simmer over low heat. Stir occasionally until milk is absorbed, about 40 minutes. [Add more stock, 1/4-cupful to thin if needed].
Bring a large pot of water to a boil in another pot. Season with salt and a splash of olive oil. Add pasta and cook, stirring occasionally, until 1 minute before al dente. Drain, reserving 1/2 cup pasta water..
Transfer beef flavored ragù to a large skillet over medium-high heat. Add pasta and toss to coat. [Stir in some of the reserved pasta water by the tablespoonful if sauce seems dry] Heat through..
Divide pasta among warm plates and sprinkle with parsley. Serve with Parmesan..