Dried Mint Paratha.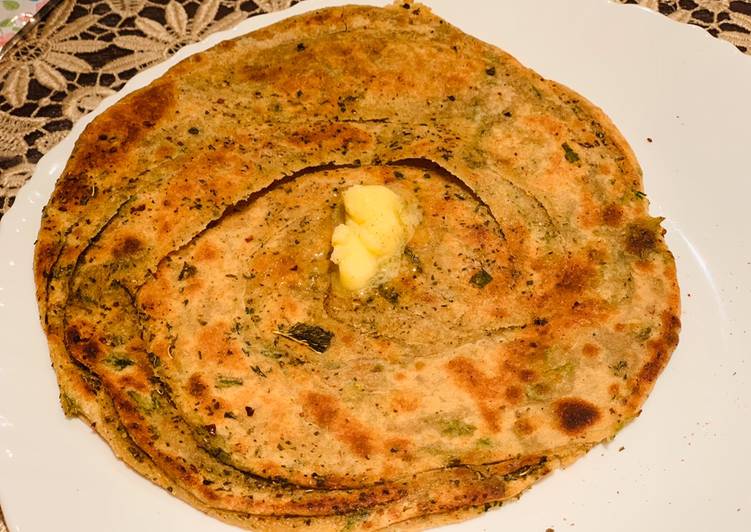 You can cook Dried Mint Paratha using 14 ingredients and 15 steps. Here is how you achieve that.
Ingredients of Dried Mint Paratha
You need of For paratha dough.
Prepare 20 g of fresh mint, finely chopped.
It's 120 g of wholewheat flour.
You need 1 tbsp of melted ghee.
It's 1/2 tsp of salt.
You need As needed of water.
You need of For the Filling.
Prepare 2 tsp of ground cumin.
It's 1 tsp of ground fennel.
Prepare 1 tsp of dried chilli flakes.
Prepare 2 tbsp of chaat masala.
You need 5 g of dried mint.
It's 1 tsp of Himalayan salt.
You need 100 g of ghee, for cooking.
Dried Mint Paratha step by step
Take the flour and salt into a mixing bowl, add the chopped mint and mix through..
Add the melted ghee and enough water to bring the dough together..
Mix with your hands until you have a firm dough and clean bowl. Wrap in cling film and leave to rest for 30 minutes..
Meanwhile make the filling by mixing all of the dry ingredients together, and warming the ghee to melt it.
When the dough has rested divide it into four balls. Keep the remaining balls covered while you work with one at a time. Dust the dough ball in flour and roll it out..
Brush liberally with melted ghee, then sprinkle over 1 tsp of the filling mix..
Fold the top edge of the disc over by 2cm, then gently lift the edge and fold again in a pleat, keeping the first fold on the top. Continue until the whole disc is folded in pleats, like a fan..
Roll the pleat up lengthways in a tight snail shape, and squash the loose end so that it sticks to the roll..
Cover the rolls as you make them and continue until you've used up all of the balls, then roll each one out into a thick paratha shape, around 15-20cm across..
Leave the paratha in the fridge, separated with kitchen towel and covered in cling film, until you are ready to cook them..
Heat up your chapati pan or flat frying pan. Brush with melted ghee then add the first paratha..
Cook for 30 seconds then flip it over and brush it with more melted ghee..
Keep flipping and brushing with ghee until it's evenly cooked and very crispy, pressing down with a spatula to get maximum contact on the hot pan..
When cooked, remove the paratha to a tray and squeeze with your hands to break up some of the flaky layers..
Sprinkle the remaining filling spices over the paratha, and serve hot, with daal and pickle..