Four Cheese Spinach Cannelloni.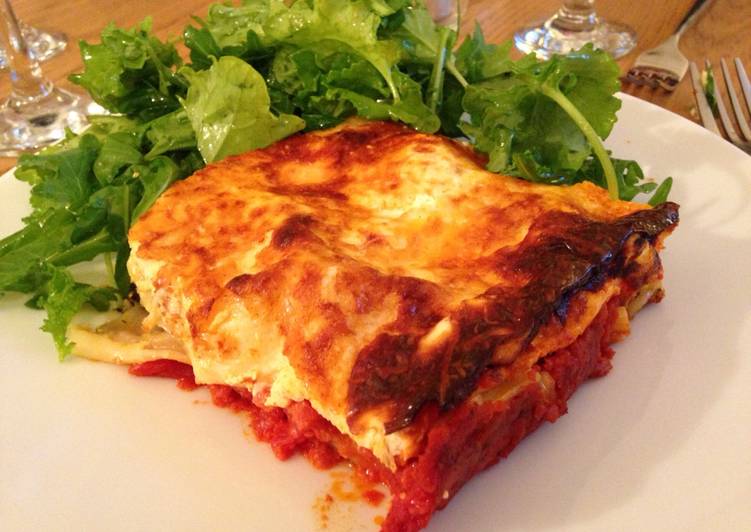 You can have Four Cheese Spinach Cannelloni using 14 ingredients and 9 steps. Here is how you achieve it.
Ingredients of Four Cheese Spinach Cannelloni
Prepare of large bags spinach, washed.
You need of ricotta cheese.
Prepare of feta cheese.
You need of nutmeg.
You need of salt and white and black pepper.
You need of Parmesan.
It's of dried canneloni tubes.
Prepare of tomatoes.
Prepare of garlic cloves, peeled and thinly sliced.
Prepare of fresh basil leaves.
Prepare of balls of buffalo mozzarella.
You need of creme fraiche.
Prepare of eggs.
You need of Parmesan.
Four Cheese Spinach Cannelloni instructions
Shake the washed spinach and place in a steamer or large pan on a medium heat, cook until wilted. Squeeze the spinach with a wooden spoon or your hands to remove most of the water. That huge pile of fresh leaves will now be a compact soggy little lump!.
In a large bowl mix together the ricotta cheese, crumbled feta, and a couple of handfuls of grated Parmsan and a good grating of nutmeg and salt and white and black pepper..
Select a roasting tray that you can use on the stove top as well as in the oven, and into which the 24 cannelloni tubes will fit. Place this on a medium heat, add a splash of olive oil and fry the sliced garlic, add the basil leaves and the two cans of tomatoes, together with a little water, salt, black pepper and a pinch of sugar if you wish. Break the tomatoes up, then leave to bubble while you stuff the cannelloni tubes..
Chop the spinach finely and add to the bowl of cheeses. Mix well and check to see if you need to add seasoning, do taste it – you don't want a bland filling. Jamie suggests using a piping bag to get the spinach and cheese mixture into the tubes, but I just use fingers and the end of a teaspoon. This is quite a mindful therapeutic activity that can't be hurried..
.
Once the tomato sauce is thick, check for seasoning and remove from the heat. In a bowl mix together the creme fraiche, eggs and Parmesan for the topping, loosen it with a little water and season to taste. Jamie adds two anchovies to his version but I didn't this time. Preheat the oven to 180C/Gas 4..
Tear the mozarella ball into rough pieces and dot them over the top..
Ladle or spoon the cream sauce over the top, and then sprinkle over some more grated Parmesan. I added a dash of paprika too..
Bake in the oven until golden on the top, check the pasta is cooked by inserting the point of a knife into a tube. Allow it to settle for 5 minutes, then serve with a leafy salad..