Spinach and Ricotta Cannelloni.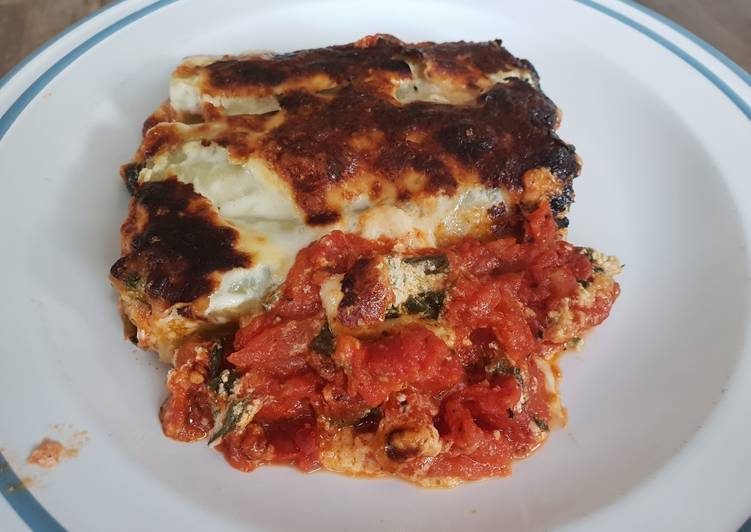 You can cook Spinach and Ricotta Cannelloni using 13 ingredients and 15 steps. Here is how you cook that.
Ingredients of Spinach and Ricotta Cannelloni
You need 900 g of spinach.
It's 750 g of ricotta.
You need 500 g of mascarpone.
It's 175 g of grated Parmasan.
It's 250 g of mozerella.
Prepare 8 of garlic cloves.
Prepare 4 tbsp of milk.
You need 3 tbsp of caster sugar.
Prepare 3 tbsp of olive oil.
It's 2 tbsp of red wine vinegar.
Prepare 2 tbsp of basil.
You need 4 tins of chopped tomatoes.
You need 2 boxes of dried cannelloni.
Spinach and Ricotta Cannelloni step by step
Boil a full kettle of water..
Add as much spinach to a colander as possible. Pour over the boiling water from the kettle until wilted. Keep adding more spinach and boiling water until it is all wilted (may take multiple kettle boils)..
Run under some cold water to cool the spinach down. Leave to cool..
Chop the garlic. Add garlic and oil to a pan and set on a medium heat..
Add the sugar, red wine vinegar, basil and tins of chopped tomatoes. Season and let it cook for about 20 minutes, stirring occasionally. Turn heat of when finished..
Meanwhile in a separate bowl add the mascarpone and milk. Season and whisk. Set aside..
Check if the spinach is cool enough. Squeeze out all excess water. I like to take chunks and sqeeze into balls..
Chop the spinach. Get another bowl out and add the spinach, 100g Parmesan, ricotta and season. Mix well..
Get multiple oven proof dishes or foil trays if freezing. Split out the tomato sauce..
Now comes filling the cannelloni. Some people like to pipe this bit, others use a spoon. I just stuff them with my hands. Use up the ricotta and spinach mixture to fill tubes until mixture is all gone. Ensure tubes are filled well with no gaps and up to the edges if not hanging out slightly. As you finish each tube, lay in the tomato sauce..
Pour over the mascarpone mixture, splitting between dishes..
Drain and slice the mozzarella. Lay it over the cannelloni..
Season and sprinkle with remaining Parmesan..
Either pop in the oven for 30 minutes on 180 fan or let cool and freeze to cook later..
Serve..