Easy Chorizo & Beans.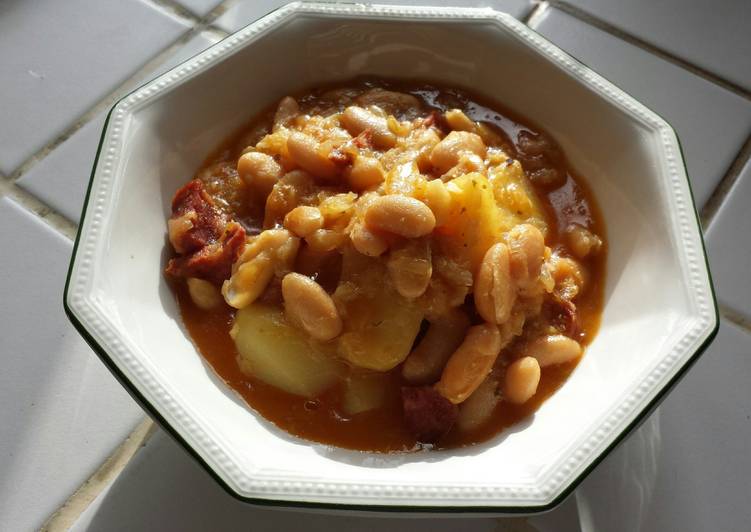 You can have Easy Chorizo & Beans using 10 ingredients and 8 steps. Here is how you achieve it.
Ingredients of Easy Chorizo & Beans
It's 150 grams of spicy Spanish chorizo, chopped.
It's 1 can of cannelloni beans, including liquid.
You need 1 medium of onion, chopped.
It's 2 of garlic cloves, chopped.
Prepare of onion salt.
Prepare of cracked black pepper.
It's 3 small of potatoes, peeled and chopped.
It's 2 tbsp of olive oil, extra virgin.
You need 100 grams of bacon, chopped.
You need 2 cup of chicken stock, hot.
Easy Chorizo & Beans instructions
Over a medium heat, heat the olive oil..
Add the chorizo and bacon and gently fry, stirring often for 2-3 minutes..
Remove the chorizo and bacon and set aside..
Add the onion and garlic and continue to fry until the onion has softened, it'll take about 5-6 minutes..
Add the potatoes and beans. Using the same can measure approximately 1/4 of the can with water and add to the pot. Bring to the boil on a medium to high heat..
Reduce heat once it has started to boil to medium to low and add in the stock. Stir occasionally. Simmer for 15 minutes..
Add in the bacon and chorizo and seasoning and continue to simmer for a further 10-15 minutes or until the potatoes are cooked..
Let it rest for 5-10 minutes and serve..