Pesto Kaman Dhokla.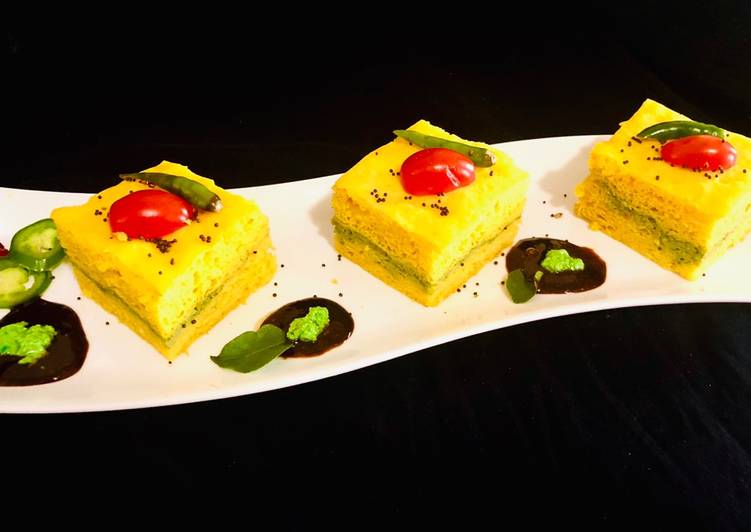 You can have Pesto Kaman Dhokla using 19 ingredients and 3 steps. Here is how you achieve it.
Ingredients of Pesto Kaman Dhokla
Prepare 2 cup of besan.
You need 1/4 tsp of turmeric powder.
It's 2 tsp of ginger green chilly paste.
Prepare 1/2 tsp of salt.
You need 6 tbsp of powdered sugar.
Prepare 2 tbsp of oil.
It's 1 of & 3/4 tsp baking soda.
Prepare 1 tsp of citric acid.
It's 1 tsp of mustard seeds.
Prepare 1 tsp of lemon juice.
It's 5 tsp of powdered sugar.
Prepare of Salt as per taste.
You need of Few green chillies.
You need 15-16 of basil leaves.
Prepare 5 of garlic cloves.
Prepare 2 tbsp of pine nuts.
It's 3 tbsp of Parmesan cheese.
It's 3 tbsp of olive oil.
Prepare 1/2 cup of water 3 times.
Pesto Kaman Dhokla instructions
First make a batter for the dhokla for this in a mixing bowl add besan then add all the dry ingredients except baking soda then slowly add water to make a thick batter mix it in one direction for 5 minutes so that there should be no lumps keep this batter rest for 15.
In the meanwhile make a pesto so for this in a grinder take garlic pine nuts Parmesan cheese oliv oil into a coarseley ground mixture then add salt mix it,now heat a steamer grease the plate add the baking soda to the half of the mixture the pour the batter into plate.
Cover it and cook it for few minutes then open the lid spread the pesto mixture then again pour the half of the batter now cover it cook it until done now heat a pan add oil,mustard seeds,green chilly,sugar,lemon juice now pour this mixture on the dhokla then cut them into pieces serve it with tamarind date chutney.