Wok Seared Chicken and Vegetables.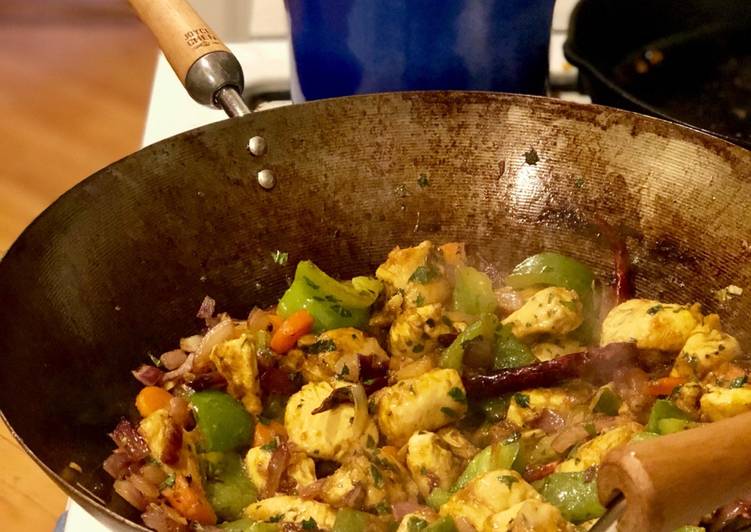 You can cook Wok Seared Chicken and Vegetables using 16 ingredients and 5 steps. Here is how you achieve it.
Ingredients of Wok Seared Chicken and Vegetables
Prepare 2 tsp of coriander.
It's 1 tsp of cumin.
You need 1 tsp of fennel.
It's 1 tbs of cornstarch.
You need 3/4 tsp of salt.
Prepare 1/2 tsp of tumeric.
Prepare 1 lb of boneless/skinless chicken breast – cut into 1" cubes.
Prepare 3 tbs of canola oil.
It's 2 of large carrots, cut into 1/4" slices.
You need 1 of large green pepper, cut into 1" cubes.
You need 1 of small red onion, cut into 1/2" cubes.
You need 4 cloves of garlic, sliced.
It's 3 of dried red chiles, such as Thai, cayenne or chile de arbol, stemmed.
Prepare 1 tbs of lime juice.
You need 1/2 cup of firmly packed fresh mint leaves, finely chopped.
Prepare 1 cup of cooked rice (optional).
Wok Seared Chicken and Vegetables instructions
Usually the rice takes the longest to cook, so if you want to mix rice into the stir fry, start the rice and follow the directions on the bag..
Mix coriander, cumin and fennel seeds in a medium bowl and add cornstarch, salt and turmeric; stir to combine. Add chicken and stir until coated with the spice mixture..
Preheat a wok or a well-seasoned cast-iron skillet over high heat. Add 2 tablespoons oil. When the oil is shimmering, add carrots, bell pepper, onion, garlic and chiles. Cook, stirring, until the vegetables begin to brown, 4 to 6 minutes. Transfer to a plate..
Reduce heat to medium-high and add the remaining 1 tablespoon oil to the pan. Add the chicken and seasonings from the bowl and cook, stirring, until no longer pink in the middle, 5 to 7 minutes. Stir in the vegetables, lime juice and mint and cook until heated through, about 30 seconds..
Add the rice and enjoy!.