Cheese Cracker Casserole.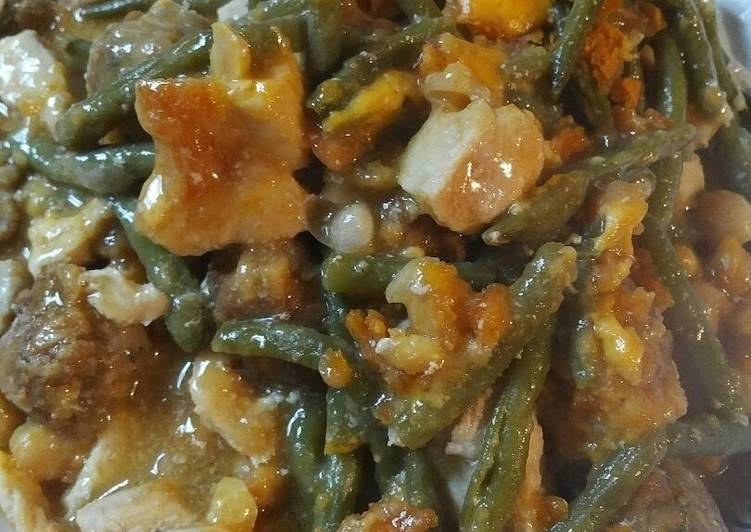 You can have Cheese Cracker Casserole using 21 ingredients and 17 steps. Here is how you achieve that.
Ingredients of Cheese Cracker Casserole
You need of –Casserole—–.
You need 1 pound of green beans.
Prepare 15 ounces of canned garbanzo beans undrained.
Prepare 1-1/2 pounds of chicken breast, boneless and skinless.
You need 7 ounces of cheese crackers, I used Cheez Its.
Prepare 2 teaspoons of celery salt.
It's 3 cups of water.
It's 1-1/2 teaspoon of filé.
Prepare 1 teaspoon of granulated garlic powder.
It's of —Meatballs——.
It's 1-1/4 pounds of ground pork.
You need 1 teaspoon of smoked paprika.
You need 15 ounce of can of garbanzo beans drained.
You need 1 teaspoon of seasoned salt.
You need 1/2 teaspoon of salt.
You need 1 teaspoon of dill weed.
Prepare 1-1/2 teaspoon of fennel seed.
It's as needed of extra virgin olive oil to fry meatballs.
You need of –Toppings—–.
Prepare 1 stick of butter.
You need 1-1/2 cup of chunky extra sharp cheddar cheese.
Cheese Cracker Casserole instructions
Preheat oven 400 degrees Fahrenheit.
Cube the chicken add to water, salt and garlic, bring to a boil. Add garbanzo beans. Adding liquids of beans to pot..
Mash the drained can of garbanzo beans.
Put the pork in a bowl.
Add the mashed garbanzo beans and seasonings..
Mix them together and form small balls..
Heat oil and fry the meatballs.
When done add to bottom of an oven safe dish. I used a 9-13 pan.
Add half the crackers..
Fish out the beans and chicken spreading over the top of meatballs.
Here its covered.
Add rest of crackers.
Then the cheese.
Add the filé. Stir in to let thicken.
Pour over the top of casserole.
Slice the butter and put on top, bake for 30 minutes..
Serve I hope you enjoy!.