Butternut Squash Mac and Cheese.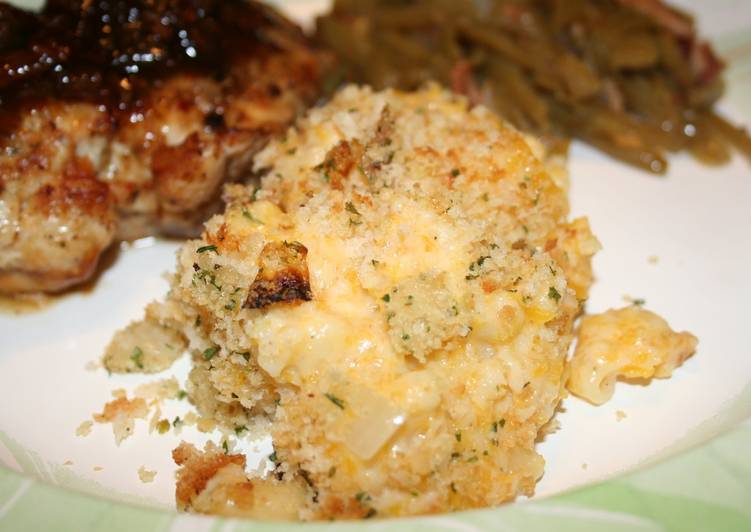 You can have Butternut Squash Mac and Cheese using 10 ingredients and 6 steps. Here is how you achieve it.
Ingredients of Butternut Squash Mac and Cheese
Prepare of rigatoni (or favorite pasta).
Prepare of butternut squash.
You need of milk.
Prepare of all-purpose flour.
It's of Gruyere cheese, shredded.
It's of bacon, crumbled.
It's of sweet onions, cut into chunks.
You need of seasoned panko crumbs.
Prepare of butter, melted.
You need of fresh flat-leaf parsley.
Butternut Squash Mac and Cheese instructions
Preheat the oven to 425°F. Lightly butter a 3-quart au gratin or baking dish; set aside. Cook pasta according to package directions. Drain; transfer to a large bowl..
Meanwhile, in a large saucepan combine the squash and 2 1/2 cups of the milk over medium-high heat. Bring to boiling; reduce heat to medium, and simmer until the squash is tender when pierced with a fork, 18 to 20 minutes. Stir together remaining 1/4 cup milk and flour; stir into squash mixture. Bring to boiling; cook until thickened, 2 to 3 minutes. Stir in 1 1/2 cups of the Gruyere until melted; keep warm..
Meanwhile, in another very large skillet cook chopped bacon until crisp; drain on paper towels. Crumble; set aside. Pour off all but 2 tablespoons bacon drippings. Return skillet to the heat..
Add onions to skillet; cover and cook over low heat 10 minutes, stirring occasionally. Uncover and increase heat to high. Cook 4 to 6 minutes more, stirring, until onions are golden. Mix together with cooked bacon and set aside about 1/4 cup..
Add squash-cheese mixture, onions, and bacon to the bowl with the pasta. Toss well to combine, then transfer to prepared baking dish..
Mix panko with melted butter & 1/4 cup bacon/onion mixture. Sprinkle remaining Gruyere and the bread crumbs over pasta mixture. Bake until top is browned, about 10 to 12 minutes. Cool 5 minutes. Sprinkle with parsley if desired. Makes 6 to 8 servings..