Peppermint / Vanilla Layered Creamy Cheesecake.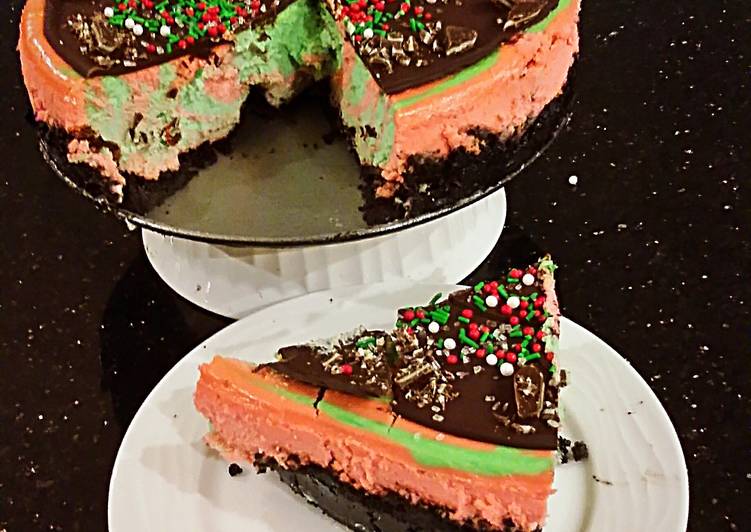 You can cook Peppermint / Vanilla Layered Creamy Cheesecake using 20 ingredients and 18 steps. Here is how you cook it.
Ingredients of Peppermint / Vanilla Layered Creamy Cheesecake
It's of CRUST.
Prepare 25 of mint filled oreo cookies, crushed.
Prepare 5 tbsp of butter, salted or unsalted, melted.
Prepare of CHEESECAKE FILLING.
It's 4 of – 8 – ounce packages of cream cheese, at room temperature.
You need 1 1/3 cup of granulated sugar.
You need 1 1/2 tsp of vanilla extract.
It's 1/8 tsp of salt.
It's 1 cup of sour cream.
It's 4 of large eggs.
Prepare 1/2 tbsp of fresh lemon juice.
You need 1/2 tsp of pure peppermint extract.
Prepare of red food color, about 15 drops.
It's of green food color, about 15 drops.
You need of CHICOLATE GLAZE.
You need 1/3 cup of heavy cream.
You need 1/2 cup of semi sweet chocolate chips.
You need 1/4 tsp of vanilla extract.
It's of GARNISH.
You need 1 of red, green and white sprinkles. White decorating ball and sparkle sugar.
Peppermint / Vanilla Layered Creamy Cheesecake instructions
Spray a 9 inch springform pan with bakers spray. Preheat oven to 325.
Crush cookies in food processor or blender until they are fine crumbs. Use whole cookies , filling and all.
Combine cookie crumbs with melted butter and mix until well moistened.
Press crumb mixture into prepared springform pan covering bottom and coming up side's. Freeze while preparing cheesecake filling.
MAKE CHEESECAKE.
Beat cream cheese until smooth, add the sugar and beat again until smooth..
Add vanilla, lemon juice, sour cream and salt and beat in. Add eggs, one at a time, beating after each egg.
Divide batter into 2 seperate bowls. Into one bowl mix in red food coloring. In the other add the peppermint extract and green food coloring, mix to combine.
Remove crust from freezer and wrap a double thickness of foil around pan.
Start assembling cheesecake layers. Pour about. 1/2 cup red cheesecake batter directly into center of crust, let it spread on its own don't disturb it. It will Not reach the corners yet.
Now using the green cheesecake batter pour about 1/2 batter directly over center of red batter. Let it push the batter put by itself, don't touch it, let it spread itself.
Add 1/2 cup green batter again directly on top of red batter, letting it spread. Continue alternating the batter colors in the same way until it is used up. It will be about 7 to 8 layers. Never smooth the batter or try to help it spread, let it do it on its own.
Place cheesecake in a baking dish and add boiling water to come halfway up cheesecake pan.
Bake for 1 hour and 45 to 50 minutes until set but still jiggly 2 inches from the edge. Cool on rack until its room temperature. Then remove foil and wrap, in pan in fresh foil and cover with plastic wrap and refrigerate overnight.
Remove foil and run a small knife around edges of cold cheesecake. Release sides of springform pan.
GLAZE CHEESECAKE.
Heat cream just until hot, pour over chocolate chips in a bowl. Let sit 1 minute then add vanilla and stir until smooth. Allow to cool 15 minutes at room temperature before pouring over top of cheesecake and spread quickly until smooth.
Add garnish while chocolate is wet. Chill to set.