Rigatoni Broccoli Bake.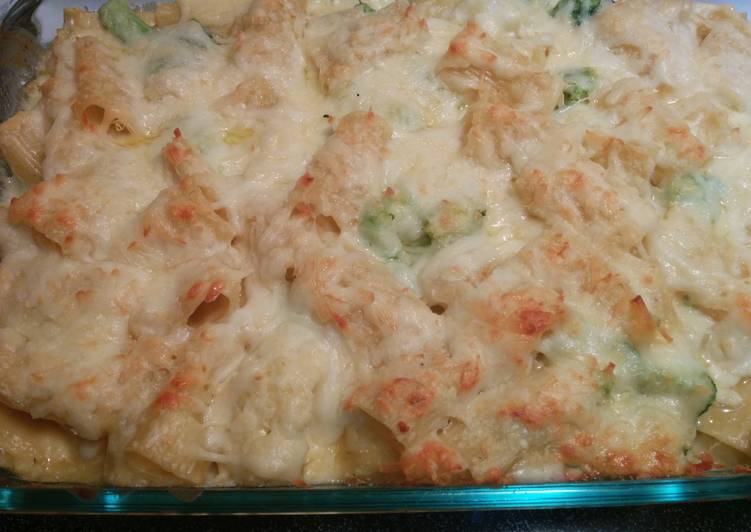 You can have Rigatoni Broccoli Bake using 12 ingredients and 8 steps. Here is how you achieve that.
Ingredients of Rigatoni Broccoli Bake
Prepare 250 grams of Rigatoni.
It's 1/3 cup of Butter or Margerine.
You need 1/3 cup of Flour.
It's 3 cup of Milk.
You need 3/4 cup of grated parmesan cheese.
It's 1 tsp of salt.
Prepare 1/2 tsp of garlic salt.
It's 1/8 tsp of nutmeg.
It's 1/8 tsp of thyme.
You need 1 1/2 cup of grated sharp cheddar cheese.
Prepare 1 1/2 lb of fresh broccoli (frozen works).
Prepare 3/4 cup of grated italiano cheese.
Rigatoni Broccoli Bake instructions
Cook rigatoni el dente, meanwhile cook Broccoli in a separate pot.
Melt butter in saucepan, mix in flour, stir until it starts bubbling.
Stir in milk. Stir until it boils and thickens.
Add parmesan cheese, all the spices and sharp cheddar cheese.
Drain pasta and broccoli once cooked, put the cheese sauce, paata and broccoli together and mix.
Put mixture into a baking pan and sprinkle italiano cheese on top..
Bake uncovered at 350°F oven until cheese is melted.
Serves 12-15 average pieces.