Glazed Baked Ham w/ Rum-Raisin Sauce.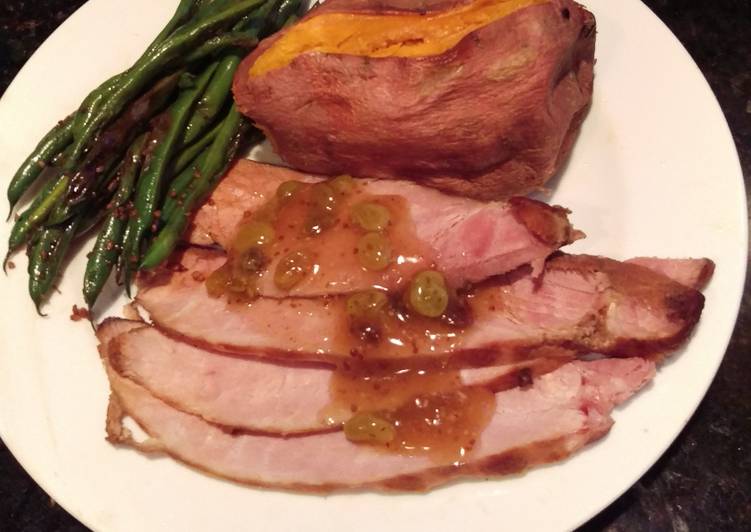 You can cook Glazed Baked Ham w/ Rum-Raisin Sauce using 17 ingredients and 12 steps. Here is how you cook it.
Ingredients of Glazed Baked Ham w/ Rum-Raisin Sauce
Prepare 6-8 lb. of bone-in ham (shank end or butt end).
Prepare Dash of cinnamon and dried ginger.
Prepare 25 of whole cloves.
It's of Glaze:.
It's 1 cup of packed brown sugar.
It's 2 tbs. of balsamic vinegar.
Prepare 2 tbs. of dark grain mustard.
You need of Rum Raisin Sauce:.
You need 1/2 cup of brown sugar.
Prepare 2 tbs. of cornstarch.
It's 1 tbs. of dry mustard.
You need 1 tbs. of apple cider vinegar.
You need 1 cup of golden raisins.
You need 1/4 tsp. of grated lemon peel (or orange peel).
Prepare 2 tbs. of lemon juice (or juice from orange).
You need 1 cup of water.
Prepare 1/4 cup of white rum.
Glazed Baked Ham w/ Rum-Raisin Sauce instructions
Heat oven to 325°F.
Place room temperature ham in a roasting pan fat side up. Very lightly dash the meat with cinnamon and ginger. Dot the meat skin with cloves..
For a nice presentation affect (diamond cuts), make a long cut 1/2" deep across the fat and skin with a sharp knife. Continue with a few more parallel cuts 1" apart. Next, make crosswise cuts that form a diamond cut pattern. Insert a clove in each center of diamond shape..
Place a sheet of aluminum foil over the ham and down both sides. Put the roasting pan in the heated oven and bake for 1 hour and 15 minutes..
Prepare the glaze by adding the sugar, vinegar, and mustard in a small bowl and mix to a paste consistency. Set aside..
After the initial baking time, remove the ham from the oven. Baste the pan juices over the ham. Using a brush, coat the ham with the glaze and place back into the oven with the foil on top..
Continue to bake another 30 minutes basting again after 15 minutes and at the end. Remove the ham from the oven and allow it to cool for 30-40 minutes before carving..
Total bake time is about 15-17 minutes per pound or thermometer reads 125°F. Remember, the ham is pre-cooked so reaching a higher internal temp tends to dry the meat out..
For the sauce: In a small saucepan, add brown sugar, cornstarch and dry mustard. Next add the vinegar, raisins, lemon peel, and lemon juice. Heat the pan over medium heat and gradually add the water while whisking..
Continue to cook, add the rum, and stir frequently until it thickens and slightly bubbles. Set aside to slightly cool. [Makes about 2 cups].
To carve: Place the ham on a cutting board. Use a sharp knife to cut thin slices (3-4) on the skin side of the ham, down towards the bone..
Make one single cut into the ham to release the slices. Repeat several times on top and bottom. Trim the remaining meat from the bone and slice. [Save the bone for stock – bean soup].