Pina Colada Macaroons.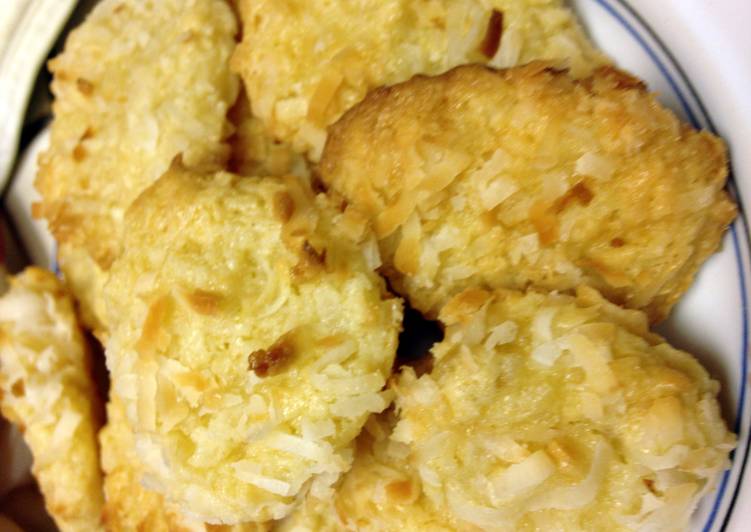 You can have Pina Colada Macaroons using 11 ingredients and 11 steps. Here is how you achieve it.
Ingredients of Pina Colada Macaroons
You need 3/4 cup of Granulated sugar.
It's 1/3 cup of Butter or margarine.
It's 3 oz of Cream cheese.
It's 1 tsp of Rum extract.
It's 1 of Egg yolk.
It's 8 oz of Candied pineapple, chopped small (I use a food processor).
Prepare 1 1/4 of All-purpose flour.
Prepare 2 tsp of Baking powder.
Prepare 1/4 tsp of Salt.
Prepare 3 cup of Coconut.
It's 1 cup of Coconut.
Pina Colada Macaroons step by step
Preheat oven to 350?F..
Cream together: sugar, butter/margarine, cream cheese, and rum extract..
Add egg yolk, and chopped pineapple..
Add dry ingredients: flour, baking powder, and salt. Blend until combined well..
Add in 3 cups coconut..
Cover and refrigerate for at least one hour..
Shape into 1" balls. The dough is sticky, so hand rolling isn't easy. A cookie dough scoop works better..
Roll balls into 1 cup coconut..
Place on ungreased cookie sheet and flatten slightly..
Bake at 350?F for 10-15 minutes..
Remove immediately from baking sheet to cooling rack..