Cocoa Melon Bread.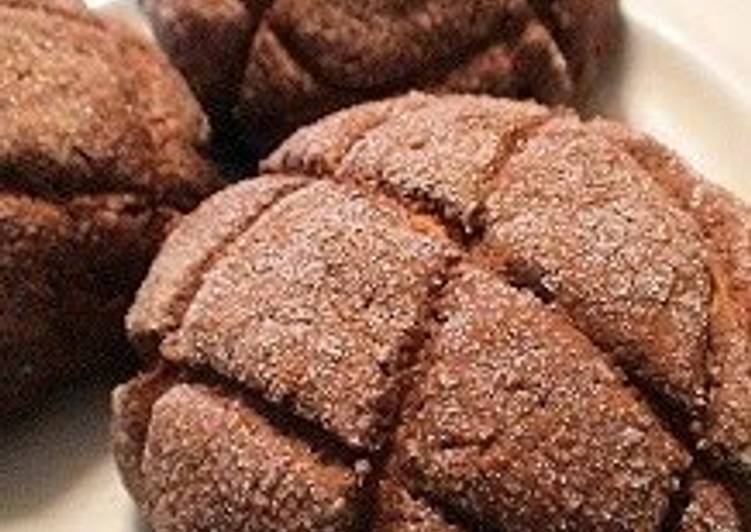 You can cook Cocoa Melon Bread using 16 ingredients and 12 steps. Here is how you achieve it.
Ingredients of Cocoa Melon Bread
You need of Bread Dough.
It's of Bread (strong) flour.
You need of Butter.
Prepare of Dry yeast.
It's of Sugar.
Prepare of Milk.
It's of Egg yolk.
You need of Salt.
Prepare of Cookie Dough.
Prepare of Margarine or butter.
Prepare of Sugar.
Prepare of Egg.
You need of ★Cake flour.
Prepare of ★Cocoa powder.
You need of ★Baking powder.
It's of Granulated sugar.
Cocoa Melon Bread instructions
Let the bread maker knead the dough until the first rising. Dust the counter with flour and pound the dough to release the gas. Use a scraper to divide into 8 sections..
Form the 8 portions of dough from Step 1 into balls. Place the seam end on the bottom and cover with a damp, wrung out cloth. Let sit for 20 minutes..
Put the margarine and sugar into a bowl and mix well. Add the beaten egg and combine together well. Sift in the ★ dry ingredients..
Use a rubber spatula to mix Step 3 together by pushing it so that it sticks together..
Place it on the counter and roll into a cylinder (about 18 cm). Cover with plastic wrap and leave it in the freezer for 20 minutes. Move it to the refrigerator for 15 minutes. Divide into 8 portions..
Push on the bread dough from Step 2 to release the gas and then form into neat balls again..
Dust the counter with flour and roll out the cookie dough from Step 5 using a rolling pin. Roll it into a circle that is about one size larger than the bread dough..
Wrap the cookie dough from Step 7 around the bread dough from Step 6. Leave a small opening in the center. Lightly press to arrange the shape..
Coat completely with granulated sugar. Use a scraper to cut lines into the dough..
Line them up on a sheet of parchment paper and let sit in a warm room for the second rising. (You can put them in a thick plastic bag and tie it closed, being careful that the dough doesn't stick to the bag.).
Preheat the oven to 190℃. Lower the temperature to 180℃ and bake for 12-13 minutes..
Once done, transfer to a rack to cool..