Steamed African corn loaf.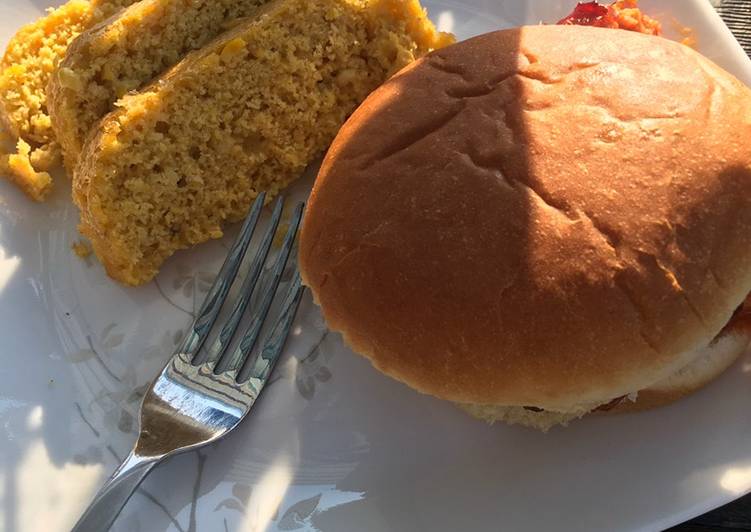 You can create Steamed African corn loaf by using 8 ingredients and 3 steps. Here is what you need to do to achieve that:
Ingredients of Steamed African corn loaf
You need 3 ears of corn.
It's 2 of eggs.
You need 2 tablespoons of melted butter.
You need 1/2 cup of all-purpose flour.
You need 1/2 cup of cornmeal.
You need 1 tablespoon of sugar.
You need 2 teaspoons of baking powder.
You need 1/2 teaspoon of salt.
Steamed African corn loaf instructions
Spray 7×4 inch loaf pan that fits inside of oval crock-pot slow cooker with nonstick cooking spray. Cut kernels from corn,measure 11/2 cups. Combine 1 cup corn,eggs,and butter in food processor or blender; pulse until well mixed (not smooth) add remaining 1/2 cup corn;pulse briefly (some corn should remain whole)..
Combine flour,cornmeal,sugar,baking powder and salt in medium bowl stir to blend. Add corn mixture,stir until dry ingredients are just moistened. Do not overmix. Spoon batter evenly into prepared pan. Cut one 14- inch piece foil; fold in half. Place foil on top of pan crimping very tightly around edges. Place pan in crock-pot slow cooker. Add 1 inch of water around sides of pan..
Cover;cook on high 4 to 41/2 hours. Remove pan from crock-pot slow cooker ;remove foil. Cut around loaf with knife to loosen; flip pan over onto wire rack. Cool bread 10 minutes. Flip loaf over before slicing..