Vanilla Biscuits <3. A quick and easy video recipe for vanilla biscuits, using Mermaid Bakeware. In a mixing bowl place your Rama margarine and cream it smooth until it nice and easy on your hand. Because these are sweet vanilla biscuits, they are flavoured enough and sweet enough to serve plain.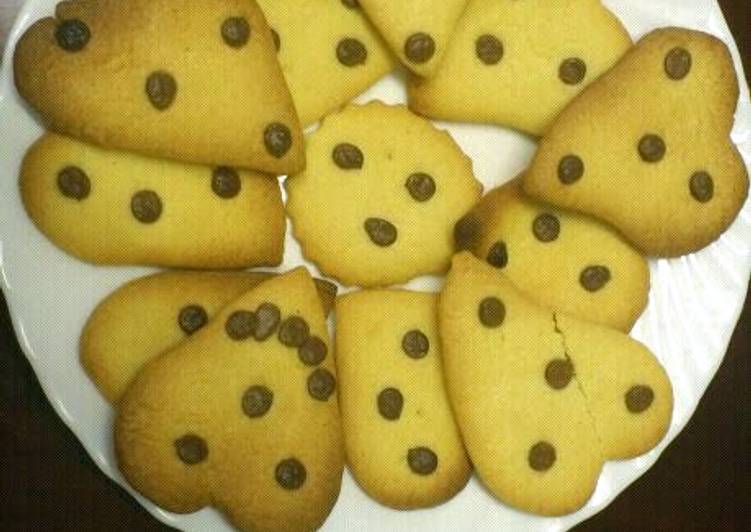 I love the texture the custard powder gives them. ORGRAN Selfies Vanilla Biscuits are a fun and delicious treat that the kids will enjoy. Kids can enjoy the rich vanilla flavouring while also having fun looking at all the different faces! You can have Vanilla Biscuits <3 using 6 ingredients and 7 steps. Here is how you cook it.
Ingredients of Vanilla Biscuits <3
Prepare 230 grams of Softened Butter.
You need 140 grams of Caster Sugar.
It's 1 of Egg Yolk.
You need 2 tsp of Vanilla Extract.
It's 300 grams of Plain Flour.
You need 1 of Chocolate Chips.
Our Fourré Vanilla is a double biscuit that has a delicious layer of creamy vanilla cream in between. You will experience a moment of intense soft. Vanilla Biscuits – Cookies, Biscuits If you are beginner in baking then this Vanilla Biscuits recipe is perfect for you to try. Get a great vanilla taste and enjoy in tea time.
Vanilla Biscuits <3 instructions
Mix the butter and sugar in a large bowl with a wooden spoon..
Then add the egg yolk and the vanilla extract and briefly beat to combine..
Sift in the flour and stir until the mixture is well combined – you might need to get your hands in at the end to give everything a really good mix and press the dough together..
Refrigerate for 10 minutes and then roll the dough out so that you can cut the biscuits out in your prefered shapes (use fancy cutters)..
Transfer onto a tray that is lined with greaseproof paper..
Decorate with chocolate chips and place in the oven for 15 minutes at Gas Mark 4..
Preheat oven to Gas Mark 4.
Vanilla cookies are the perfect base for any decorations you wish to try. Our vanilla cookies are perfect for sharing and can be decorated however you like! Vanilla Biscuits – Biscuiteers' Veg Box Biscuit Tin features nine hand-iced vanilla biscuits that are inspired by fresh farmers' market produce. Jam drops, Smartie tops, paddle pop cookies, or choc chip. The only recipe you will ever need.