Moroccan Chicken Rice Bowl.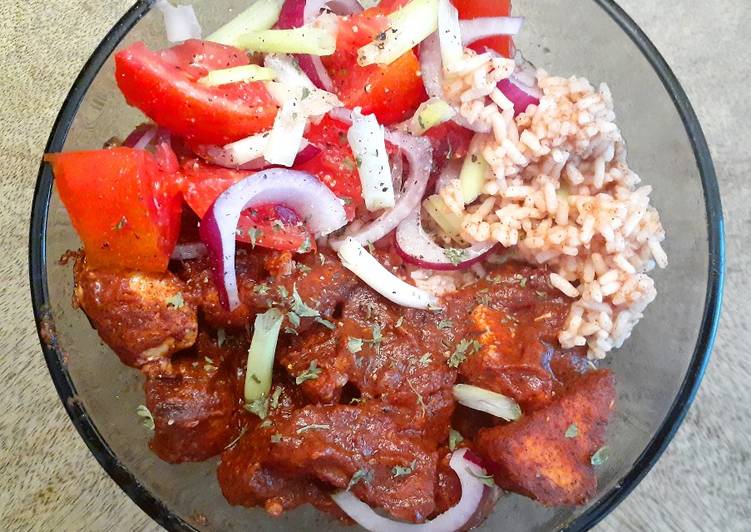 You can cook Moroccan Chicken Rice Bowl using 19 ingredients and 5 steps. Here is how you cook that.
Ingredients of Moroccan Chicken Rice Bowl
You need 1 1/2 lb. of Boneless, skinless chicken breasts, chopped.
It's 1 Tbsp. of Moroccan spice mix.
Prepare 1/4 C. of Tomato paste (see below).
It's 1 Tbsp. of Olive oil.
Prepare 3/4 C. of Broth.
You need to taste of Salt and pepper.
It's 1 C. of Rice, cooked or dry couscous.
You need 1 1/2 C. of Water or chicken broth.
You need 2 of tomatoes, chopped.
You need 1 of red onion, sliced.
It's 4 of green onions, chopped.
It's 1 Tbsp. of Fresh sparsely or 1 tsp. Dried.
You need of Moroccan Spice Mix.
You need 1 1/2 Tbsp. of Ground cinnamon.
Prepare 1 tsp. of Smoked paprika.
It's 1/2 tsp. of Ground ginger.
You need 1/2 tsp. of Ground nutmeg.
Prepare 1/2 tsp. of Cayenne pepper.
It's 1/2 tsp. of Sea salt.
Moroccan Chicken Rice Bowl instructions
Cook rice according to package directions. Or if using couscous, bring 1 1/2 C. Water or chicken broth to a boip in a saucepan. Once boiling, stir in the couscous and put a lid on and take off the heat. Let couscous steam until chicken is done and then fluff with a fork..
In a large bowl add chicken, olove oil and Moroccan spice mix. Toss to coat..
Heat oil in a large skillet over medium-high heat. Add in the chicken and cook for 3-4 minutes until starting to brown but not entirely cooked..
Stir in the tomato paste and chicken broth and continue to stir until the sauce thickens and the chicken cooks through about 5-7 minutes..
Divide rice or couscous between 4 bowls, then top with chicken and tomatoes, onions, and green onions.