Rice Pilaf w/ Carrot & Cumin.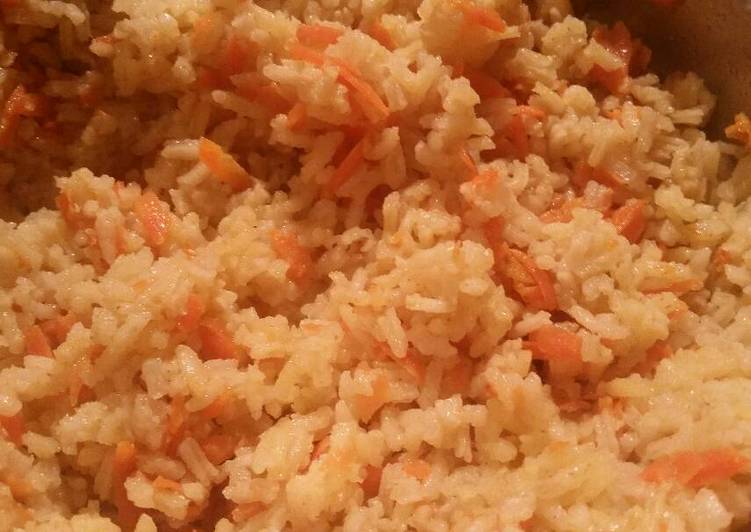 You can have Rice Pilaf w/ Carrot & Cumin using 7 ingredients and 4 steps. Here is how you cook it.
Ingredients of Rice Pilaf w/ Carrot & Cumin
It's 1 C of rice.
Prepare 2 C of warm water.
You need 2 of carrots; peeled & grated.
Prepare 2 t of cumin.
You need 2 T of butter.
It's 1 T of extra virgin olive oil.
It's 1 pinch of kosher salt and black pepper.
Rice Pilaf w/ Carrot & Cumin step by step
Heat butter and oil in a medium sized, oven safe saucepot. Heat water to a simmer in a different pot..
Add rice, cumin, salt, and pepper. Stir and saute over medium-high heat for 1-2 minutes. Add carrots and warm water. Stir. Cover..
Bake at 350° for approximately 25 minutes or until liquid is absorbed. Let steam for 5 minutes without removing the lid. Fluff and stir..
Variations; Coconut extract or milk, raisins, cardamom, espresso, allspice, lemon, lime, nutmeg, clove pumpkin, mace, cinnamon, brown sugar, cayenne, crushed pepper flakes, parsely, cilantro, scallions, chives, chile powder, turmeric, celery, celery seed, worchestershire, paprika, shallots, habanero, bacon, oregano, zucchini, squash, marjoram, cotija, coriander seed, lemongrass, lime, pineapple, mango, papaya, vinegar, wine, bourbon, thyme, basil, rosemary, olives, bacon fat, vegetable stock, vegetable oil, peanut oil, onions, corn, sofrito, beer, tequila, mojo crillo, spinach, nopales, chimichurri, tamarind, soy, hoisin, tamari, leeks, ramps,.