Pre-Civil War Blackberry Cobbler.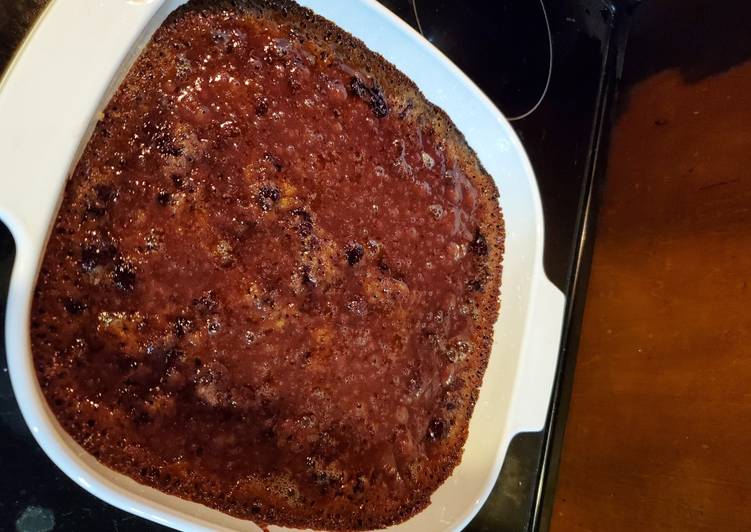 You can cook Pre-Civil War Blackberry Cobbler using 7 ingredients and 11 steps. Here is how you cook it.
Ingredients of Pre-Civil War Blackberry Cobbler
It's 4 cups of fresh blackberries.
You need 1 of and 1/4 cups sugar.
Prepare 4 Tbl of cornstarch.
Prepare 2 Tbl of blackberry brandy.
Prepare 1 tsp of ground nutmeg.
You need 1 Tbl of ground cinnamon.
You need of For pastry: 1 cup sugar, 3/4 cup sifted flour, 1/3 cup soft butter.
Pre-Civil War Blackberry Cobbler step by step
Place blackberries in a medium saucepan and crush with a potato masher. Saucepan is on low heat..
Once thoroughly crushed, add the sugar and rise the heat to medium. Stir constantly until the mixture is boiling..
Once boiling, continue to stir constantly for 5 minutes at the same heat. Do not turn it down and do not stop stirring..
After 5 minutes, remove the saucepan from the heat immediately..
Stir in the nutmeg and cinnamon..
In a separate cup or small bowl, mix together the brandy and cornstarch. Ideally, the brandy should be a bit chilled. Mix until it is thick liquid..
Pour the cornstarch/brandy mixture into the saucepan and mix well..
In a separate bowl, mix the flour, sugar, and butter. Work in the butter by hand. The consistency should be crumbly and there should be no pieces of butter left..
Pour the saucepan ingredients into a 9-inch casserole or baking dish. Pour the bowl mixture on top and spread evenly over the blackberry mixture..
Place baking dish in the oven (preheated at 350 degrees) uncovered for 20 minutes..
When done, the side edges of the dish should be starting to form a light, brown crust..