Pasta with a spicy beetroot sauce, feta, dill and walnuts. Cook the pasta following the instructions on the packet. Put the beetroot into a blender and add the olive oil, salt, garlic and chilli. Tip out on to a serving dish and sprinkle over all the feta and dill mixture.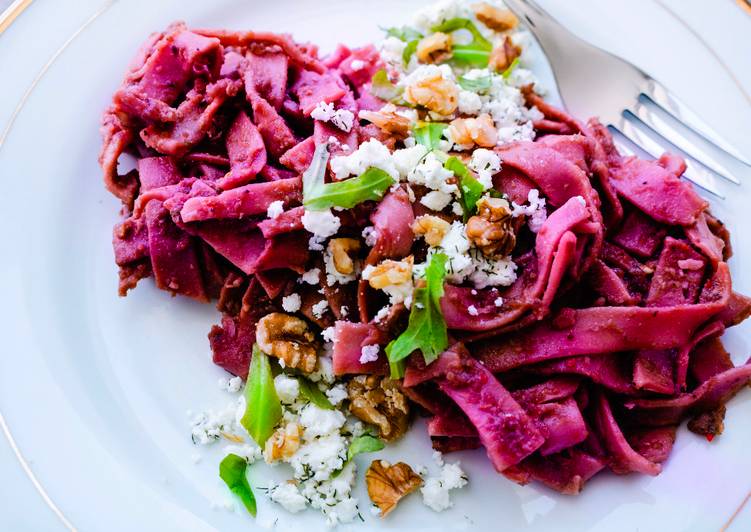 The feta does double duty, adding bright tang to the dish and creating a creamy sauce. Fragrant dill is a natural pairing for eggplant and zucchini, but Return pasta and reserved cooking water to pot over medium heat. Pasta in a decadent creamy, homemade, butternut squash pasta sauce, with no cream! You can have Pasta with a spicy beetroot sauce, feta, dill and walnuts using 15 ingredients and 6 steps. Here is how you cook that.
Ingredients of Pasta with a spicy beetroot sauce, feta, dill and walnuts
Prepare of Sauce:.
It's of cooked beetroot,.
You need of olive oil,.
It's of fresh garlic, minced (or 4 garlic cloves),.
You need of large red chillies (use one for mild).
You need of Pasta:.
You need of Tagliatelle pasta.
It's of Feta Mixture:.
You need of feta cheese,.
It's of dried dill,.
You need of lemon juice.
You need of Toppings:.
You need of crushed walnuts,.
It's of rocket leaves, roughly chopped,.
It's of Any flavoured oil for drizzling.
The spicy chicken sausage and sage is the perfect compliment. Butternut squash makes the creamiest sauce, which makes it a healthy, lighter alternative to cream sauces made with heavy cream and butter. A quick and easy Greek Lamb Pasta With Feta & Dill recipe, from our authentic Greek cuisine collection. Find brilliant recipe ideas and cooking For a Greek twist on bolognese, we've combined rich lamb with olives and oregano in a rich tomato ragù.
Pasta with a spicy beetroot sauce, feta, dill and walnuts instructions
Cook pasta as per cooking instructions..
While the pasta is cooking, place all the sauce ingredients in a blender and blend to a smooth paste..
Crumble the feta in a bowl, add the dill and lemon juice and mix, set aside..
Once the pasta is cooked, drain the water and add it back to the pot (heat off)..
Mix the rich, ruby sauce in the pasta, tossing it until each strand is coated,.
Place the pasta strands on the plate,followed by a topping of feta cheese, crushed walnuts, rocket leaves and flavoured oil!.
Serve your sauce over pasta with dill and. This one is a classic flavour combination: Rocket (Arugula) with Beetroot, Feta, Walnut and a Honey Balsamic Dressing. It's often made with goats cheese The scattering of walnuts really takes this to the next level, and you only need a few tablespoons. At my local fruit & veg store (for those that live in. When the pasta is cooked, drain it using a colander and serve it HOT with the sauce and cheese (when required) on top.