Garlic Butter Bun.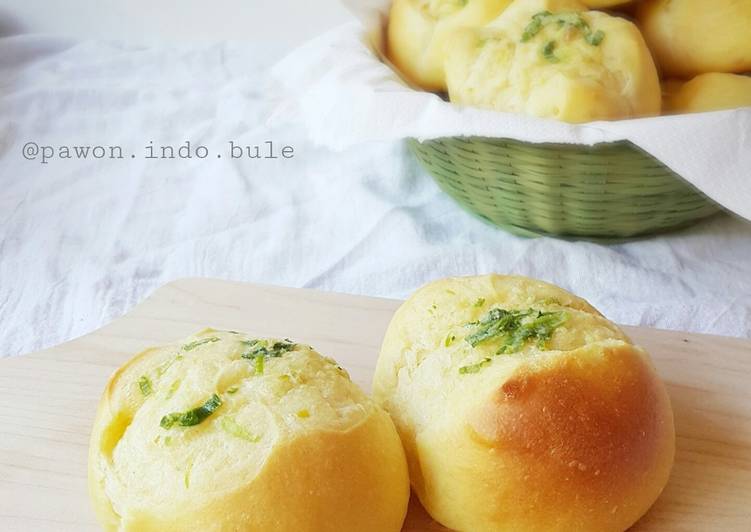 You can have Garlic Butter Bun using 14 ingredients and 7 steps. Here is how you cook that.
Ingredients of Garlic Butter Bun
You need 75 gr of warm milk.
Prepare 15 gr of dry active yeast.
Prepare 500 gr of bread flour.
Prepare 100 gr of granulated sugar.
It's 30 gr of whole milk powder.
You need 5 of large eggs.
You need 7 gr of salt.
It's 125 gr of unsalted butter.
It's of Topping :.
It's 2 tbs of unsalted butter, softened.
Prepare 1/4 tsp of salt.
You need 4 of garlic cloves, press in the garlic press or finely chopped.
Prepare 1/4 tsp of garlic powder.
Prepare as needed of green onion, thinly sliced.
Garlic Butter Bun step by step
Mix all the topping ingredients until well combined and put it in a piping bag. Set aside..
Add 1 tbsp of sugar and yeast into the warm milk. Mix well then let stand until frothy (about 5 minutes)..
Add the flour, the remaining sugar, powdered milk, eggs and yeast mixture into a heavy duty mixer bowl with dough hook. Knead until everything is well blended. Add salt. Knead until the dough comes together. Add butter. Knead until smooth and elastic (if the dough is being stretched it will not get torn and look transparant)..
Put the dough in a greased big bowl. Cover with plastic wrap and allow it to rise in a warm place until doubled..
When the dough is ready, turn it out onto a lightly floured surface. Divide the dough into 24 even pieces and shape each piece into a ball. Place the dough buns on a parchment-lined baking sheet. Allow the buns to rise on the baking sheet until doubled in size..
Cut the top of each buns using a sharp scissor then pipe the topping into the openings..
Bake the dough in a preheated oven 350°F for about 10 – 15 minutes or until the top becomes golden..