Marinated Cucumber Red Onion Salad. Summertime is the right time for cucumber and tomato salad. This one is dressed with a basic homemade salad dressing. Reviews for: Photos of Marinated Cucumber, Onion, and Tomato Salad.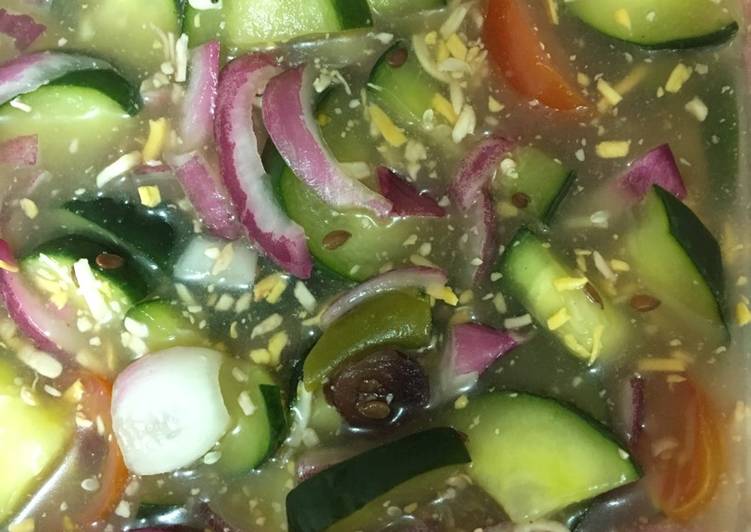 Tomato Cucumber Onion Salad is probably the healthiest thing in my refrigerator right now. I absolutely love keeping it on hand for when I just want to snack on I have found cucumber tomato salad recipes that call for distilled white vinegar and others that call for red wine vinegar. Crisp cucumber, onion, and tomato – pair with creamy avocado and a tart and savory vinaigrette in this Marinated Cucumber, Tomato, & Red Onion Salad. You can have Marinated Cucumber Red Onion Salad using 4 ingredients and 4 steps. Here is how you achieve that.
Ingredients of Marinated Cucumber Red Onion Salad
You need 4 of large red Onions sliced.
You need 3-4 of large cucumbers cleaned and sliced slightly thick rounds.
It's 1-2 cups of apple cider vinegar 1 -2 tablespoon olive oil 1/2 -2/3 cup sugar 1/2 teaspoon celery seed 1 teaspoon fresh ground pepper or more to taste.
It's of Option: 1 teaspoon Ground Tumeric powder.
Garnished with fresh dill, this bright salad is perfect for your next summer barbecue. Tips for making Marinated Cucumber, Tomato, and Onion Salad: This is a basic, simple recipe that can be easily customized. Add some chopped fresh dill or some dried Italian seasoning for more flavor. Use red onion instead of sweet onion.
Marinated Cucumber Red Onion Salad instructions
Add vinegar, olive oil, sugar, celery seed, ground turmeric, and ground pepper to bowl or jar with tight fitting lid..
Stir or shake to combine. Add cucumbers and red onion; cover and refrigerate to marinate..
Stir or shake several times to coat..
Don't forget to put the proper ingredients in the proper recipe 😃👍🏼.
Use cherry tomatoes instead of regular tomatoes. This cucumber salad recipe is easy to prepare. You can make it in no time with a few simple ingredients, including cucumber, onion, vinegar, and dill. Marinate: Add the sliced or chunked cucumber and sliced sweet onion and toss to coat. Marinate for a few hours before serving.